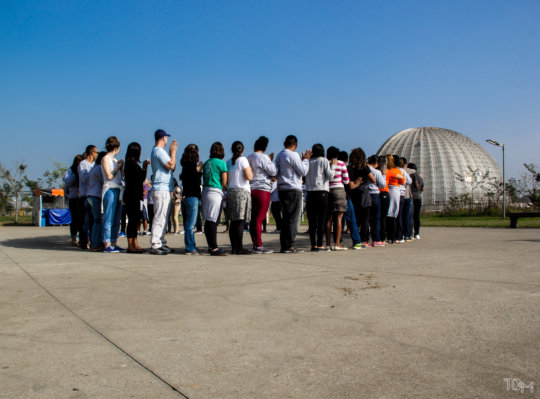 Dear supporter,
We are very happy to inform you we have managed to gather 48 volunteers from the Brazilian Legal Amazon in the 8º Vaga Lume Congress, held between August 27th and 30th in the city of Sao Paulo. Its main goal was to train them as multipliers of the methodology of reading mediation developed by the organization.
Among the volunteers, there were representatives of the Local Teams (responsible for the work in the urban area of the municipalities), representatives of the communities (responsible for the work in the countryside), as well as people with many years of Vaga Lume and others who have volunteered for less time, but are already developing significant reading projects in their regions.
In a four-day immersive experience, volunteers listened to lectures and participated in discussions about early childhood reading; child empowerment; evaluation and monitoring; planning; among others. In addition, more experienced volunteers could share their knowledge with the youngest in the "Mentor Walk" activity; and each group of representatives had access to the results of the evaluation of their community libraries and, therefore, was able to develop an action plan for each community/municipality for next year.
The Congresses are a fundamental part of Vaga Lume's methodology once gather, with a certain periodicity, volunteers from different parts of the Amazon region that carry out similar reading projects in their realities. Thus, it is an enriching moment when they can exchange experiences, challenges and share alternative solutions. The volunteers, by becoming multipliers, consolidate strong networks that contribute to the development of their activities in their communities and encouraged them to put into practice the learning and alternatives brought from the event.
The 8º Vaga Lume Congress was a huge success! Check out the testimonials we heard from our volunteers, Evilásio and Janiléia:
- "When I took over the library in Cruzeiro do Sul, the children could not access the library by themselves, they needed their parents. Now the children have autonomy to use the library without their parents and the loans of books have increased a lot. We have to believe in the children!". Evilásio, Cruzeiro do Sul, Acre.
- "Listening to other testimonials makes me feel like it has a part of me in every community". Janiléia, Mirinzal, Maranhão.
We have only managed to accomplish such moving results with your support! This is why we are here to thank you and to encourage you to keep following our work and sharing your thoughts and suggestions with us.
Thank you!
Vaga Lume Team