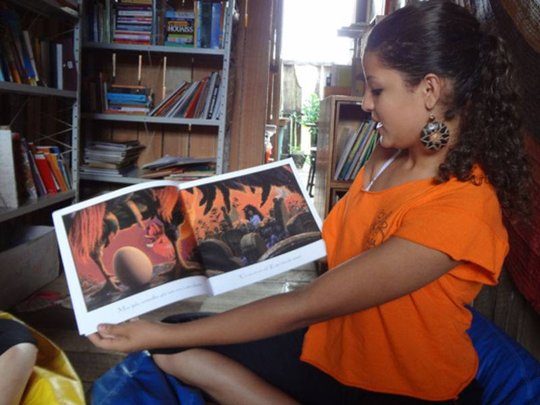 Benguí Library, city of Belém, Pará State – It's about empowerment!
Dear supporter,
In Brazil, on March, 8th we also celebrated International Women's Day and even though Vaga Lume doesn't have a feminist agenda, our mission to provide quality education to around 24,000 children that live in the 158 rural communities of 23 municipalities of the Brazilian Legal Amazon region can empower children, young people and also women.
We have told you many stories and the one we are going to tell now is about a girl, called Tassia, that little by little became an empowered woman. She lives in Belém, the capital of Para state, specifically in a slum called Benguí. This girl is eighteen years old and she had her first contact with the Vaga Lume when she was eleven. She has just succeeded in a college admission exam, and is now a student of Pedagogy at the Federal University of Para. We would like to invite you to be as inspired as we were by the happiness and empowerment she shows in a letter she sent to us, Vaga Lume São Paulo Team.
"2015, January 1st
My first contact with Vaga Lume's project happened when I was 11 years old. I was invited to be part of a collective reading mediation session at the Friends of Reading Library (Biblioteca Amigos da Leitura), a community library established in Benguí by teacher Ana Cabral (nowadays its coordinator). I had always been encouraged to read and write by my parents so it was awesome to see the library for the first time on the street where I live. There were so many books that I couldn't leave the place! When I was a child I found very interesting and wanted to be part of an ecological or environmental cause, defending animals… Vaga Lume's project reached my life in a brilliant way, since I made my dream of being part of a social project come true. It was an opportunity to be who I really wanted to be!
Once, I received from Ana a simple notebook. She asked me to write down my ideas and opinions about reading mediation sessions and about the library. I decorated the notebook with many stickers and I wrote my texts. I always asked myself why a person would try to get a kid to share her thoughts since, for most people, children's opinions are not very significant. As the time passed by, I met people from the São Paulo Team and in 2009 I participated in the 4th Vaga Lume Conference, in Santarem city, here in Para state. I flew on a plane for the first time; I left my city for the first time; I became enchanted for those that now I can call friends, Celice Oliveira and Sylvia Guimarães; and I realized they were people I could see myself being like in the future. I received an orange T-shirt and I realized that Vaga Lume wouldn't leave my life soon: it wasn't a simple library, or a simple T-shirt, it was me becoming someone in this big world!
When there were some difficulties in my life, I'd drown myself into the desire to be an educator, into the dream to be someone that puts sincere smiles upon the faces of children that go to reading mediation sessions. I entered in other projects, some of them even at the international level, and I grew up. I became a political activist and I have eight years working experience with children and teenagers as well as a human rights defender. I finished middle school as an official member of the Friends of Reading Library Team, which is right next to my home, in the suburb of Belem, Benguí neighborhood.
When I faced questions about my career, I didn't have many doubts: in a way, I was already an educator. By the end of 2013, for the first time, I took a college admission exam and the results weren't good enough. During 2014 I studied hard all months in a preliminary school, dividing my time between my job, volunteering programs, and many other actions, events and responsibilities. I used many books from the library in order to improve my reading skills and critical sense. On 2015, January 24th, I was approved as second runner up for Pedagogy Course at the Federal University of Para.
Vaga Lume Association has completely merged into my life's history (…). It's been almost eight years since I am a Vaga Lume (a firefly, in Portuguese) and I am sure that I will keep dressing this orange T-shirt for many more years."
Tássia"
Tassia is one of the 24 thousand children from the Amazon encouraged by Vaga Lume's work to be a sensible and strong leader, already influencing her generation and, as an educator, possibly the coming ones. This is the impact of Vaga Lume that we will not see translated into numbers. Actually, although this is not our mission, it is a very welcomed side effect: by reading and having access to information, people become empowered and able to realize their full potential, just like Tassia is doing!
So it is time to say, once more, thank you! By donating to Vaga Lume, YOU have made it possible. You are in this with us, so we should celebrate this together! We wish you all the kindness you have provided to our children from the Amazon!
Other stories and news are available at www.vagalume.org.br/home
If you have any doubts or comments, do drop us a line!
Best regards,
Thais, on behalf of the very proud Vaga Lume Staff
Links: