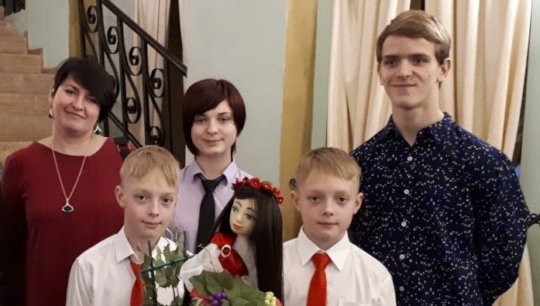 Sergey and Julia have born three children. But 4 years ago they understood they can raise up one more child, and not only self-born. Knowing there are kids living without parent's care, spouse decided to view some video profiles of orphan children on the website of Change One Life Foundation. They've begun the search to find out what kids are in the database.
At first they've looked for kids of the same age as their twins – about 5 years old. But when Sergey and Julia have seen the video with Sveta, teenager of 12 from Amur region, they couldn't forget her.
«We were striken by the sadness in girl's eyes. Video caused the intention to become the meaning people for her. In order she could live not on her own, and she could feel needed to people beside her. Later, when we've seen enough of such video profiles we understood that all these kids have this sadness in their eyes. It's seen even through the smiles and in good mood.»
Also Sergey and Julia realized orphan children have no one to share their success, in school for example.
And it's in their power to change something. So spouse told their children about kids living in orphanages, and kids suggested to take orphan into the family.
So soon Sveta have become the daughter for Sergey and Julia, and the sister for Dasha, Sasha and Dima.
Later 15 year old Misha have become the part of their family too.
Please support our project to bring orphan children and new parents together.
There's a perfect chance to make the impact greater – to make a donation through the Little by Little Campaign till 13th of April.
There will be $55,000 in matching funds during the campaign, applied at 50% to all donations up to $50 USD.
New recurring donations up to $200 per donor started during this week will get an additional 100% match on their initial donation as long as it remains active for a minimum of four payments.
Please help us to make orphan children visible for new parents!