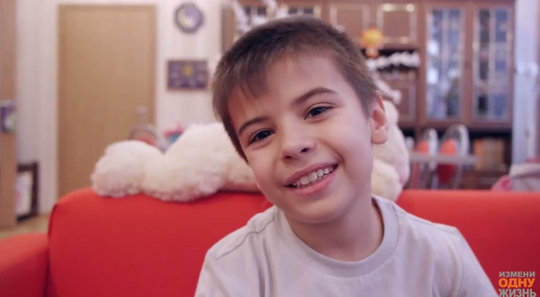 Dear friends,
Thank you for your trust you've gave us along with your donations.
Your support in November and December 2013 was very important for us, and allowed us to make the video profiles for another 9 kids who need family. We hope this videos would help kids and their parents to meet each other and their lifes would be changed.
Alexander (born in 2007), Sergei (born in 2001), Dmitry (born in 2003), Ilya (born in 2005), Fedor (born in 2004), Roman (born in 2010), Alexander (born in 2009), Alexander (born in 2004), Artem (born in 2013).
For two years of it's activity Foundation "Change One Life" has made the database of almost 8 thousand video profiles of orphans, and more than 1 thousand kids were adopted already. So every month we receive the news about 100 new kids in family.
We wished to share with you with the story about one of these kids and his new family.
So these are the words of Nataly Petrochenkova, who has found her son watching the video profile from our database:
"I never thought that after just watching of a video about the orphan, the next day I would call to regional social services for the the infromation about the kid, and would go to the local social services to make the application for the foster parenting. My relatives couldn't understand what's happening whilst I've shown the video of the boy - and they were very surprised for he's alike my eldest son. And I've settled all the formalities for the "guest regime", to have the opportunity to have him in the family on weekends and holidays, meanwhile I'm preparing the papers to take him to our family entirely.
So now he's with us on a "guest regime". It's the hurricane, not a child. In the orphanage he had sad eyes, but now he's smiling and getting surprised of everything he sees in big city. In his characteristics from the orphanage it was written than he's secretive, and it's difficult for him to contact to anyone. That was a lie! He's very communicative, caring and curious. He always knows what to do, and there are many things interesting for him. So when your heart says that's your child - everything would help both of you to be together."
And we'd like to inform you there's a perfect opportunity for your donation to make the greater impact.
There would be Bonus Day on 12/02 - starting in 9:00 EST (18:00 by Moscow time). Global Giving would add 30% to each donation untill all the matching funds would run out. And there would be an award for most individual donors. See more details here.
Thank you once again for supporting of children who need parental care!