"I know that the state is planning to build a Jewish village named Hiran and that some of the houses in the village are included within a master plan. The plan for Hiran's development in the area is proof that this land is suitable for residency. In addition, the fact that our village was built by the military regime, that we've been here since 1956, that we've built our homes, raised our families and developed our community here, is reason enough for us to oppose our transfer to any other village." 'Atwa '

"In a decision that was given in part of the evacuation orders, the court ruled that we are authorized to be here. However, the state claimed that we were trespassers, and so their demand for us to leave the village is based on partial and irrelevant consideration. This approach is discriminatory based on our national identity and has no business in planning, legal or any other issue." Khalil
"In October 1997, there was a storm around the area of the Yatir River. Heavy rains caused erosion and flooding in and around the village. As a result, three girls from the village were swept away and killed by the floods, and most of the houses in the village were completely destroyed. After the disaster, Ariel Sharon, who at the time was the Minister of National Infrastructure, visited us and the government decided to assist in rebuilding the village. We bought materials and rebuilt our houses, but by 2004, the state announced that we have to leave our village and that our homes will be demolished." Ali
"Our tribe lived in Wadi Zubaleh before we moved to Umm el-Hieran, which today is part of the agricultural areas that were allocated to Kibbutz Shoval. Our tribe used to cultivate the land there for many years. The legal procedures for our land claims have been pending since the 1970's and there are still no decisions by the state." Ahmad
"The people of Umm el-Hieran form a close social unit based on strong communal solidarity among all families. The evacuation of the village will break those connections and hurt the social structure of our families and all the residents of the village." Salim
The twin villages of Atir and Umm el-Hieran are slated to be demolished and the lands used to build a new Jewish town called "Hiran", and to expand a Jewish National Fund (JNF)-sponsored forest called "Yatir". The approval of the state's plans for Atir-Umm el-Hieran will mark the second mass displacement and dispossession of the Arab Bedouin villagers since the establishment of Israel.
Adalah has been representing the residents of Atir-Umm el-Hieran for over 10 years before all levels of Israeli Courts and in Land and Planning Committees against these demolition orders and eviction lawsuits. Adalah is currently defending the villagers against a total of 25 eviction lawsuits, 33 demolition orders, and 3 master plans.
A history of displacement and discrimination
In 1956, the Israeli military governor moved the Al-Qian tribe to the lands of Atir-Umm el-Hieran after the state confiscated their land and expelled them from their ancestral village of Khirbet Zubaleh. Although the state relocated the residents to those lands, it refused to legally recognize their village. As a result, the state did not issue the villagers permits to build new homes and infrastructure, and the village was denied basic services including water, electricity, schools and sewage systems.
In 2002, the Israeli government announced plans to establish the Jewish town "Hiran" over Umm el-Hieran and to expand the "Yatir" forest over Atir. In November 2013, the government approved the acceleration of the construction of four new Jewish towns in the Naqab including Hiran, despite the fact that several cases remain pending in the courts against the demolition of the village and the evacuation of its people.
Meanwhile, a group of Israeli Jewish citizens have built a gated community inside the Yatir Forest neighboring Umm el-Hieran, waiting for the evacuation of the Bedouins in order to move into Hiran. This unauthorized illegal community has been connected to the electricity and water networks, while the 1,000 residents of Atir-Umm el-Hieran have never received these most basic services for the past 58 years.
The case of Atir-Umm el-Hieran poses a very important question: can Israel demolish an Arab village and forcefully evict its residents, in order to establish a town for Jewish citizens and a man-made forest over its ruins?
For more information:
Our legal and advocacy work are made possible through your contributions via Global Giving – thank you!
As we head further into 2014, we hope that you will help us reach our goal of raising $20,000 so that Adalah can support the community through important legal representation to save their homes and their village, offer more study tours for media and decision-makers, and continue to provide human rights workshops to Bedouin citizens.
Please join us, and also ask your friends to stand with Adalah, stand for Justice!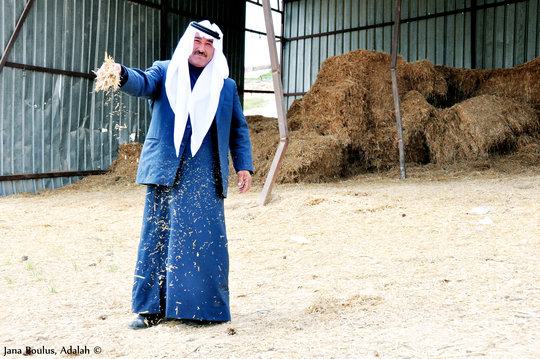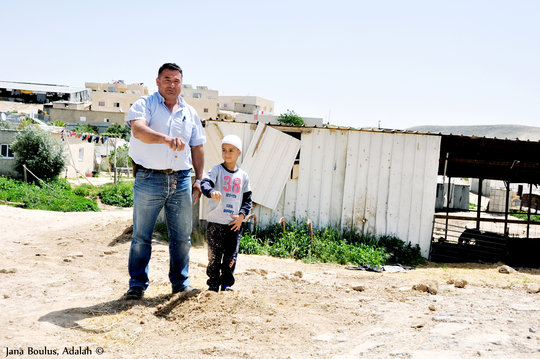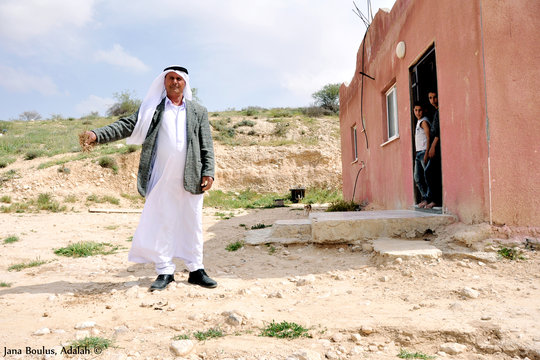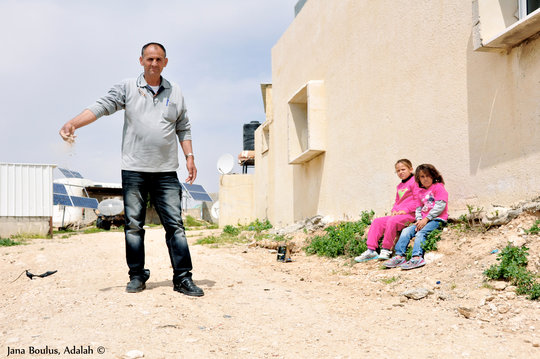 Links: