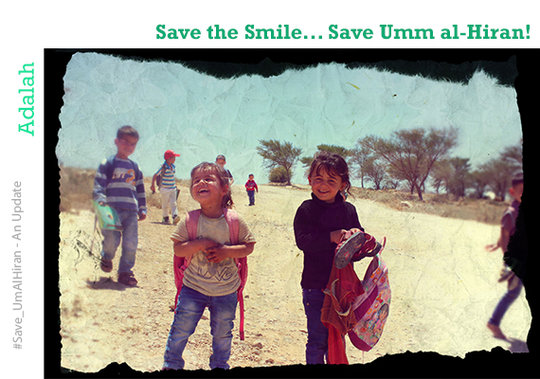 Here is an update on what we've done and what is coming up to #Save_UmAlHiran and how your kind donation is making a real, tangible difference
What we've done
Litigation: On 7 June, Adalah submitted an extraordinary motion to the Israeli Supreme Court (SCT) asking that it grant a second hearing before a wide panel of justices to reconsider its decision. The 5 May decision sets a dangerous historical precedent, breaking with past SCT caselaw and making it possible for the state to remove almost every Palestinian community in the country at any time, in the same way that would happen with Atir-Umm al-Hiran. We expect a decision from the SCT within a month. Read more here. See also Haaretz.
Also, we have litigated in the Kiryat Gat Magistrates' Court on a parallel case concerning the demolition of Umm al-Hiran homes.
Advocacy: Also on 7 June, 29 human rights and civil society organizations in Israel, including Adalah, called the SCT ruling "unjust, racist and discriminatory" in a front-page ad published in Ha'aretz in Hebrew. An English ad will be published shortly.
Awareness-Raising and Mobilization: Adalah led a tour for 20 Palestine Works law student fellows from the US and Canada to Susiya and Umm al-Hiran. During the tour the students learned about Israel's attempts at forced displacement of the Bedouin on both sides of the Green Line. See the press release. In addition, we hosted a 'social media storm' bus tour to Umm al-Hiran for 48 Arab new-media journalists, bloggers and photographers. We also led a tour to the village for more than a dozen Hebrew media journalists.
New Media Campaigning: Adalah, together with Hamleh: The Arab Center for Social Media Advancement, released a video-illustration on YouTube that encapsulates the eviction of Umm al-Hiran's residents in 40-seconds! Watch the video.
What's coming up
- US Advocacy: This week Adalah representatives in the US will give a lunchtime briefing for think-tanks, hosted by the Open Society Foundations, a briefing at the US State Department and participate in a meeting with the National Security Council (White House).
- Embassies in Israel: Next week, Adalah, together with our partner the Negev Co-existence Forum, will lead a briefing and tour for diplomats to Umm al-Hiran to raise awareness and step up international pressure against this discriminatory plan
How you can help
1. Donate: Every dollar goes a long way. We will litigate, advocate and mobilize to #Save_UmAlHiran. Donating is a rewarding form of human rights activism. https://www.globalgiving.org/projects/save-umm-al-hiran/
2. Share our materials with friends and family on facebook: share the campaign donation page, share the latest updates & invite friends to follow us
3. Join the struggle! Do you or the organization to which you belong believe in equality? Then be part of the legal and popular movement for the Palestinian Bedouin residents of Umm al-Hiran. Write nasser[at]adalah.org so we can get you on board.
Many thanks for standing with the community and for justice! We need to act today to send an urgent message to the Israeli government and the Israeli Supreme Court that it is absolutely unacceptable and anti-democratic for Arab Palestinians in Israel to be uprooted from their homes and lives so that an Israeli Jewish community can be settled in their place. If the decision is implemented, it would be possible for the state to remove almost every Palestinian community in the country at any time. Let's act now!
In solidarity and thanks,
Rina Rosenberg (Jabareen)
International Advocacy Director, Adalah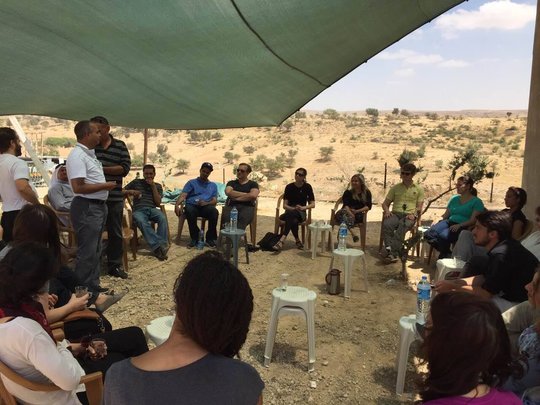 Links: