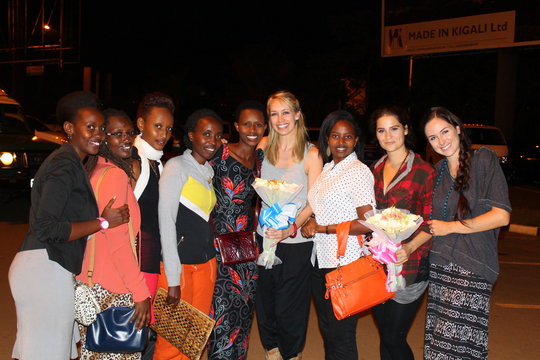 This summer The Safi Life Foundation team members and a film crew went to Rwanda to begin filming our documentary about the progress made since the 1994 genocide against Tutsi. Our piece is mainly focused on hope for the future, and the ways in which leadership, education, and female advancement in Rwanda have aided in the process of reconciliation and progress.
We were surprised at the airport by all of our 2013 scholarship recipients: Safi herself, Bam, Jeanne, Jeannette, Fredine, and Assumpta. They brought us flowers and jewelry and many tears were exchanged. They remained with us through much of the trip, and we even got to tour Kigali Independent University where Bam and Fredine attend school! It was lovely to see our donor's dollars put to work, and how much a college education means to these incredible young women and their families.
In Rwanda the annual income is $750USD per year, and many universities cost up to $900. Therefore it is nearly impossible for many parents, espeically with multiple children, to afford college. Some we met had to sell their entire farm, or their cow, which is a priceless commodity in Rwanda, in order to get their child into college. Education is a top priority there, as we learned from our lunch with President Kagame on the final day.
The most heart wrenching fact of all, however, is many people don't have parents, or much of a family at all, due to the genocide. So anyone who might have been able to help these young adults attend college has passed away. That's why we are here, and that's why we do what we do. The Safi Life Foundation is honored to now be sponsoring ten girls who were genocide survivors and lost one or both parents in the atrocities. In the future, our focus will be shifting to orphans who are socially and intellectually qualified and deserving of a university education.
We cannot thank you enough for your continued love for these amazing young women. They are the future of Rwanda, the future of Africa. Their hearts are strong and so are they, and we will continue to do whatever we can to support them.
Until next time...