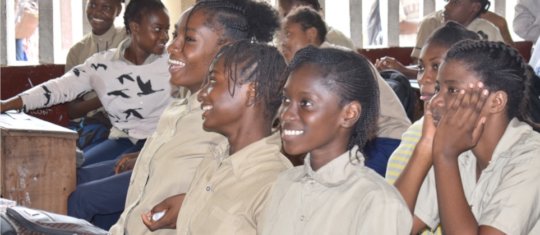 In the Republic of Congo, IBC and its local partner organisation CTPAD (Coordination Technique des Projets et D'Appui au Développement Communautaire) have been implementing a prevention programme in the local schools of Brazzaville since 2013. It focuses mainly on students between the ages of 12 and 18 and deals with life skills topics such as: addiction, HIV/AIDS, discrimination, violence and gender issues.
We receive very valuable stories from young adults who tell us how their lives have changed through the activities of the local Blue Cross.
A story about a young woman:
"I came into the world from a relationship of circumstances between a hemp worker father and an alcoholic mother, which meant that my childhood was not that of a normal child because she was unable to take care of me. My parents left me at the mercy of the members of their respective families, namely uncles, aunts and grandmothers who raised me not as born from their blood, but as a maid for everything, especially cleaning and other household work which was endangering my studies.
At the age of 12, the maternal family decided that I should live with my father who lived with his new wife, his sisters and his cousin in the same household. There, another ordeal begins. My mother-in-law mistreated me and my father spent his time in hemp. Reasons which led me to move to my mother whose new husband did not want me. I went back to my father and continue to suffer the nastiness of my mother-in-law.
At the age of 14, I was raped by a 30 year old person. My father was made aware of the situation, but he didn't help me. I spent hours crying.
At the age of 17, I joined my aunt. Thanks to her affection and her advice I started to regain courage.
In 2018, thanks to the existence of the "young leaders" (name of the life skills club), I learned about the life skills of the Generation 5 S* project. Since then, I have followed their activities until I have been offered the chance to become part of the Generation 5 S project through the peer education training carried out in December 2018. Since that time, Generation 5 S has guided my steps.
Out of an insecure broken girl, a self-confident courageous woman was born - thanks to the knowledge of the Life Skills Programme. This project makes me a responsible girl, someone I can count on. This pushes me to carry in me the values developed by this project and what I learn with it, I pass it on to those who find themselves in the situation that was mine before.
To conclude, all my thanks to God for having accomplished my destiny: to join the Generation 5 S project."
* The 5 S stand for: Sans alcool, Sans drogue, Sans violence, Sans VIH, Sans discrimination
With your donation even more lives can be changed. Thank you for your generosity!