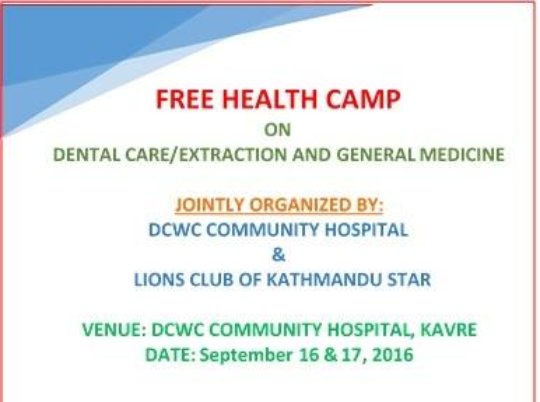 September 2013 marked the launch of our collaboration with Global Giving. Neophytes to fundraising, all we had to offer was our desire to support a small hospital in the Kavre District of Nepal. The Rajbash Community Hospital opened in 2010 to provide much needed basic medical care to some of the poorest people in this remote area. We had visited the hospital twice while trekking in Nepal and were truly inspired by their mission. Inspite of our ignorance and with amazing coaching by the Global Giving staff we managed to organize our first, very successful fundraising drive. Many have followed since, and the Rajbash community hospital with its all Nepali staff is not only still standing, it is thriving and an important part of the larger Rajbash/Kavre community.
As I think back over the last three years I remember the many small and large challenges that we have weathered:
monsoon landslides that regularly took out the road;

the unreliable electric grid breaking down in the midst of surgeries;

government promises for our birthing center certification delayed;

the loss of valuable employees, lured away to better paying jobs, to name just a few.

The biggest challenge, without a doubt, was the incredible devastation wreaked by the series of powerful earthquakes that hit Nepal in April 2015. Damage to the upper floor of the hospital made us transfer patient services to a hastily rigged outdoor space covered with tarps. When the monsoon came we moved into the small pharmacy building and labored for months in these cramped conditions while the hospital yard became a command center for relief activities in the hard hit area.
However, the upper floor of the hospital has now been earthquake proofed and repaired, and operations are back inside where they belong. There has been much else to celebrate:
the donor who generously provided the funds to initially complete the interior of the

hospital's second story;

the 2012 donation by TATA India of a fully equipped, back country enabled ambulance;

the building of independent staff quarters to house doctors, nurses and other personnel;

installing a new solar system that makes us independent of the electrical grid (which, incidentally, was seriously damaged by a major landslide that took out a portion of the dam providing hydropower to the region);

the generous UK donor who gifted a new Ultra Sound machine and a warming bed for our neonatal unit

the long awaited government certification as a regional birthing center and, finally,

w

e celebrate and thank the many volunteers who have given their talents and their time in support of this important project.
All these achievements would not have been possible without DCWC's expert management, Global Giving's guidance and the staunch support of you, our kindhearted donors. Through Global Giving your donations go directly to our project. Your generosity allows us
to continue providing basic medical services to large numbers of subsistence farming families in remote Nepal;

to increase our reach to even more remote areas through our free Health Camps;

to reach more expectant moms through our outreach programs, improve their perinatal care, and thus lower the incidence of maternal and child mortality for families in remote areas.
We are grateful to you for standing with us in this ambitious undertaking and hope you will continue to lend your support in the future.
PS. For a more detailed history of this project please read our reports going back to Dec. 2013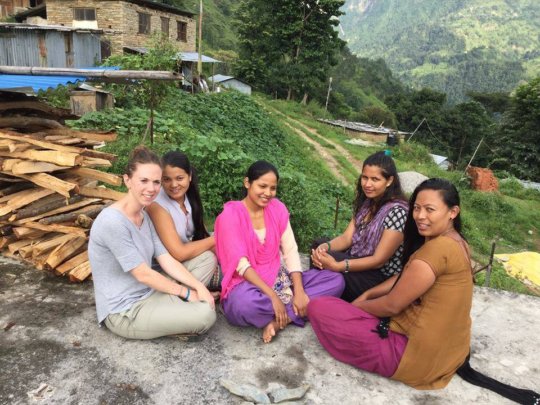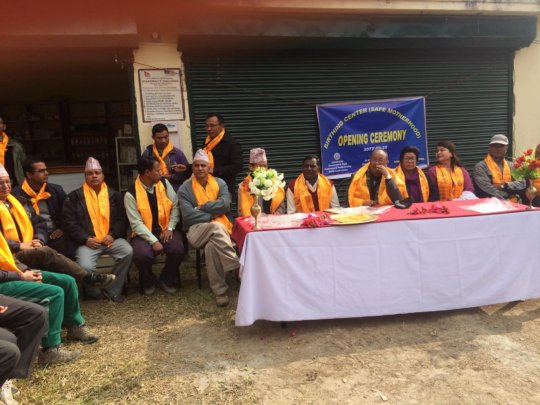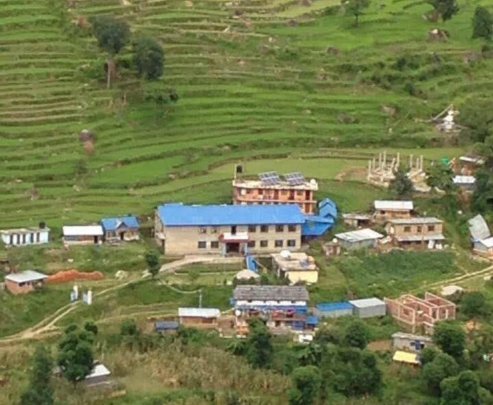 Links: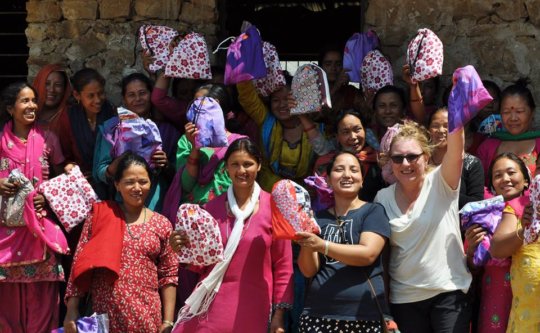 Global Giving Report #12 - 6/13/2016
We have just passed the one year mark of the earthquakes that devastated large parts of Nepal and, in particular, the Sindhupalchok and Kavre areas of the country. Entire communities were wiped out, thousands lost their homes, their livelihoods and their schools. Our Rajbash Community Hospital sustained considerable damage to its second floor and its staff quarters. We felt helpless just witnessing what happened from our comforts here in the US, but the resilient Nepalis rallied as much as they were able and have made remarkable progress in rebuilding their communities (despite the lack of adequate assistance from the government and a paralyzing embargo of goods from India). Much, of course, remains to be done, but the courage and industry of the Nepalis in the face of terrible odds have garnered our respect and admiration.
The damaged hospital and staff quarters were repaired with generous donations from US supporters. New and stiffer building requirements have made the buildings safer (and visibly cleaner) than before. Our staff was very relieved to move back into the hospital premises after months of functioning in provisional quarters.
Our English DCWC partners visited Rajbash in May for some more strategic planning with the hospital staff and the DCWC staff. It has been challenging to align Nepali record keeping practices with Western bookkeeping requirements. This was not the first of such meetings. However, we feel that steady progress is being made toward more accuracy and transparency in financial record keeping.
The highlight of our English friends' visit was a previously planned, three day 'Girls Event'. In remote areas of the country there is often a great lack of sanitary napkins for young menstruating girls to the point were many girls just won't go to school during 'that time'. To remedy this, our friends brought a large supply of 'nickers' and washable sanitary towels and held educational meetings at schools for girls. As you can see from the pictures, their gift was greeted with enthusiasm and, also a little embarrassment.
Rajbash has a new Outreach/Educational provider named Ungela. Ungela comes with a degree in Community Health and replaces the beloved Minn Prasad who used to be such a vital part of the Educational and Outreach programs of the hospital. Minn was lured away by a permanent government job and and his example shows the difficulty of keeping good employees long term. We hope that Ungela will become an integral part of Rajbash Hospital and carry on the important outreach work that is such an important aspect of bringing basic medical care into remote areas.
In time the outreach coordinator would also be a liaison for a Rajbash medical outpost in a more remote region that would be staffed by a trained nurse and provide basic medical services. This has been one of the long held visions of the hospital's founders and discussions are underway right now to make this vision a reality in the near future.
In closing we want to share one more bit of wonderful news with you:
The US organization 'Medshare', collectors and distributors of surplus medical supplies and equipment, donated an entire ship's container of supplies to our hospital. They even volunteered to pay the air freight for transport to Nepal. For seven months the DCWC staff negotiated with the government to obtain tax free entry until, finally, the supplies arrived in April and were transported to Rajbash The hospital, in turn, shared some of the bounty with other hospitals in need. We can not overstate our gratitude for this generous gift that will ease our hospital operation for quite a while to come.
DCWC supporters in the UK and in the US are planning the following treks in support of the Rajbash Hospital:
Nov. 4 - 20, 2016 - 15 days touring Nepal
This will be a tour of sacred places in Nepal that are destinations of Buddhist pilgrimages. Transportation will be by bus and four wheel drive plus some short day hikes. For more information or to sign up for this trip contact
stevegross@earthlink.net
.
April 8 - 28, 2017 - Two week trek to Annapurna Sanctuary (Base Camp), to include cultural exploration of Kathmandu. Details being finalized. For more information contact petersjc104@gmail.com
BOTH tour and trek to include visit to Rajbash Hospital and a DCWC school.
We continue to be grateful to all of you who support our ongoing efforts for the people of Nepal. Blessings to you.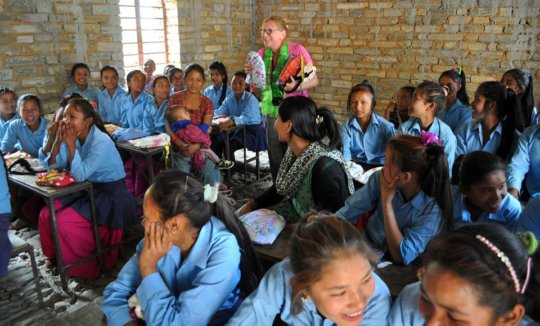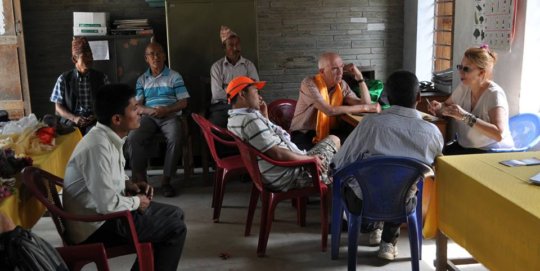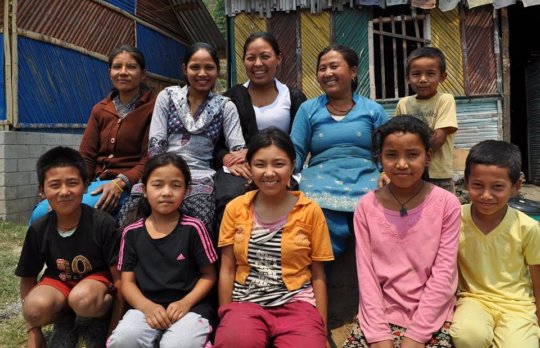 Dear supporters of the SHELTER AND WATER FOR EARTHQUAKE VICTIMS IN NEPAL project. This will be our final report before closing this project for lack of ongoing funding. This does not mean, however, that our rebuilding efforts will stop. We will continue with the construction of 'temporary/permanent' shelters as long as our funds permit.
There are many other NGOs whose main purpose is to help Nepalis rebuild. These efforts are scattered but all avoid having to go through government channels, which have proven to be ineffective and corrupt. In some areas the government has provided $200 per household to rebuild, but even those disbursements are sporadic.
As of this date the newly created Government Reconstruction Agency has approved
z e r o projects and disbursed hardly any of the substantial sums of aid money that were pledged by countries all over the world after the earthquakes. It now looks like the majority of people who lost their homes and are living in make shift dwellings of sticks and plastic tarps will have to do so for at least another monsoon season and most likely the next winter. Many families also are hesitant to start rebuilding because the government announced that reconstruction would have to conform to new, improved building codes. However, these have not been worked out yet and are one more reason why progress is stifled.
Thanks to your support and a generous grant from Global Giving, to date our team at the DCWC has been able to help 167 families move into new shelters. While these are seen as 'temporary/permanent' structures, they are seismically sound, can last many years and could be integrated into new construction should a family be able to rebuild an earthquake safe traditional stone house at a later date.
Given all of the above information we have decided to refocus our efforts on the fundraising for our main project on Global Giving, the Rajbash Communite Hospital and its continued operation and support. This hospital (also damaged during the earthquakes but now repaired and fully operational) supports a full time Nepali doctor, nurses, midwives and an outreach service. It provides basic medical services to a large number of subsistence farming families in the Nagre Gagarche/Sindhupalchok areas. Immediately after the earthquakes some of our staff went to organizing relief in the surrounding communities. Later they were instrumental in organizing the rebuilding project that you have been supporting. Now, however, it is time for us to refocus on our hospital and the healthcare for people in remote areas. To learn more about Rajbash Hospital and for continued support for DCWC go to Global Giving Project #14750 (Lifesaving healthcare for remote farming villages).
Thank you for your generosity and we hope to see you again on our hospital site.
WARNING: Javascript is currently disabled or is not available in your browser. GlobalGiving makes extensive use of Javascript and will not function properly with Javascript disabled.
Please enable Javascript
and refresh this page.