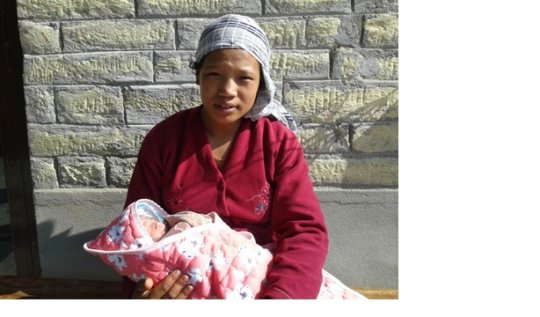 Six months after the earthquake, the Kavre region in Nepal is still scrambling to overcome the effects of the devastating Spring earthquakes. While much aid money has been pledged to help rebuild the country, very little of it has actually reached Nepal, and even less has reached the subsistence farming populations in the Kavre/Sindhupalchok area. Throughout, the DCWC team has delivered livesaving relief supplies and medical attention to local communities.
With the help of your generous donations and a strong work crew DCWC has just finished repairing the extensive damage to the second floor of the Rajbash hospital. This even includes a new ramp to the second floor of the building that is housing our maternity ward. Women who arrive in labor can now be wheeled into the birthing center in greater comfort and safety.
More and more young women are now choosing to come to Rajbash for perinatal care and delivery. However, others, like 18 year old Sunita from Nagre, wait until there are complications. Here is her story:
"My labour pain started from the evening and all the women of my home including some women from my neighbor gathered around me to let out the baby from me in my home. All people were encouraging me to push out the baby but it was not working as they had expected. Then a woman was suggesting all people to take me to the hospital, but it was raining hard so that ambulance would not be able to reach my home and it's almost midnight. After a while four people carried me on their shoulder and I was covered by some plastic to drain rain on the way to the hospital. After one hour, we went to the hospital and all the staff of the hospital came and gave some medicine (epidural) and I gave birth to a female child. I was so happy that the hospital is providing quality service to us people otherwise me and my baby may be unable to get this life. Thank you, the entire hospital unit. May god will give all strength to provide this type of quality service to us."
Our regular patient load is slightly higher than pre-earthquake levels. We believe that the reassuring presence of the hospital at the center of the earthquake devastation has raised people's awareness of our services and lessened the loyalties to the local healers that may have kept people away previously. Our Community and School Health Awareness programs with several monthly presentations also educate people in issues of health and hygiene, and how the hospital can be of help in their lives.
The months of September and October brought some visitors to Rajbash. A Global Giving team came to Rajbash to experience first hand the day to day life at the hospital as well as DCWCs school projects and rebuilding efforts. Global Giving has been incredibly encouraging of our work in Nepal and we hope that their team's feedback will prove us worthy of their support.
Two young American nurses, Desiree and Jessica, came to volunteer at the Hospital for a month. Quick friendships were built between staff and visitors and both young women felt that in a short month they got an education of a lifetime. We want to share with you what happened when they and Gary Collier (DCWC UK) took a hike one day:
"Thank you Gary Collier for sharing the miraculous story and being a part of the team who saved this young boy's life. It is said that when you save one life, you save the world..... Along with all of those who were there that day, DCWC Nepal's ambulance and Community Hospital played a huge part in this child being alive today!
Gary Collier posted: While in Nepal in September we took a days walk away from our DCWC Nepal hospital to go and see how our earthquake house rebuilding program was getting along. We saw many temporary houses being built along the way and the impact it was having on the many affected by the earthquake. Late in the day as we were ready to head back we were asked to go and see a little boy who was very sick. It was apparent the boy was in such a bad way he only had hours to live. His parents were distraught. In April the earthquake had completely destroyed their home and from that time Sanjeevs health had deteriorated. The monsoon had come and gone but the lack of rain meant a complete crop failure for Sanjeevs family. Homeless and without any crop harvest to see them through the winter, Sanjeevs parents now were seeing their 12 year old son die in front of them. The medical staff we had with us knew the boy was beyond help. It was a long way to our hospital but we felt if we could get him there then he could at least pass away in comfort and with care. For many hours Sanjeev was stretchered by members of his family to Chourikhola where we had the ambulance waiting to take him to the hospital at Rajabas. After spending the night on a drip miraculously Sanjeev was able to sit up and even later was able to go to the toilet. Several days later we felt there was enough hope to get him to Kathmandu where since Sanjeev has continued his amazing recovery. This is a picture of Sanjeev yesterday in Kanti Childrens hospital. He is a very lucky boy. If we hadn't walked by his home that day he most certainly wouldn't be here. It is a credit to all involved in the process from our fantastic Rajbash Hospital staff guided by Dr Uddhav Lama, the drive of Akka Lama, the two American volunteer nurses, Desirée Landry and Jessica Vance, and the fine care at Kanti Hospital that Sanjeev is now recovered and thriving."
In closing we want to invite you to join us in April 2016, the one year anniversary of the earthquake, for a month long 'mini peace corps' mission at the hospital in Rajbash. You can be part of a corps of ten, helping to rebuild the hospital's kitchen. In addition there will be time for cultural immersion, hiking into remote villages for healthcamps, training locals in the use of solar cookers and possibly the creation of a sustainable/marketable agricultural project. If you burn to share your skills and desire to help, this is your chance to do so precisely where the need is. For more information please contact: Patrick & Karin, email: pgraneys@yahoo.com. If you are not able to join us in April, please consider supporting our efforts with a donation.
With deep gratitude for all you have contributed towards the ongoing support of the Rajbash community hospital and the people it serves,
Karin Reibel & Patrick Graney