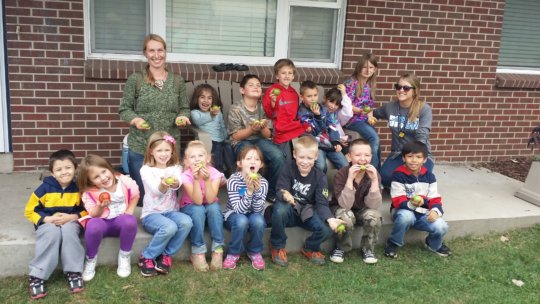 2015 was a year of growth in several ways for us at Jovial Concepts. With our gardening program in it's second season, we expected to make some strides but none of us could have expected this. Your support has allowed our program to evolve, and while we are constantly refining it we cannot help but be ecstatic about the results.
Our mission is to create accessibility to high quality food for those in need and to unify communities around the common goal of creatively increasing resource independence, and the numbers say we are doing just that. In 2015, we tended to 7100 sqare feet of lawn, backyard and other public space. This was supplied by several members of the Lakewood and Edgewater communities. With the help of over 400 volunteers, who donated a total of 2,065 hours this season, we were able to provide 4022 pounds of fresh produce for donation to local food banks and people in need. But we provided much more than just volunteer opportunities and fresh produce. When polled, 84%of participants said they had a new understanding about managing organic waste and supporting local food insecurity through participation in our program.In effect, we use the gardens to provide classes and job training which support overall community growth.
While we are encouraged by our progress, there is still much work to do when it comes to fighting food insecurity in Colorado. We are continually looking for ways to reach out and see where else we can help. For example, in honor of World Food Day we partnered with a local organization, ACS Community Lift, to hold a Fall Festival with the goal of spreading our message to the community. With the help of 33 volunteers we were able to serve an organic meal and hold a backyard produce cooking demo. We even got local hero, Dj Cavem, to come out and perform some of his original work promoting a healthy vegan lifestyle for our 127 attendees.
For our efforts, the City of Lakewood has chosen us to represent sustainability locally. As a champion of sustainability for our community, we would like to set our goals even higher for the next year. We want to expand into new neighborhoods and have at least 50 gardens and over 12,000 square feet of space to tend to. With that increase in space, we hope to double our production and donate 8000 pounds for needy populations. But we cannot maintain our momentum without your continued support.
If you are interested in volunteering or getting involved please email info@jovialconcepts.org or call
303-578-2569

Thank you for your support of Jovial Gardens!