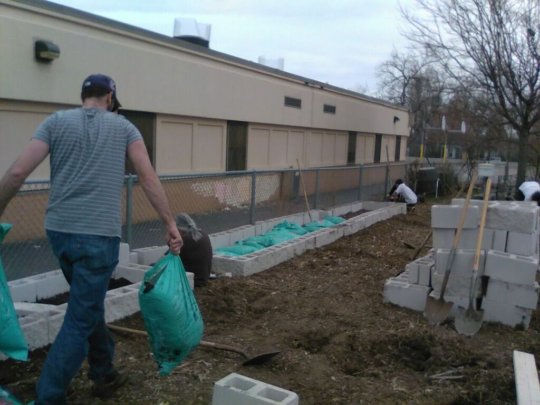 Hi Jovial Garden Supporters,
I'd like to update you about our work at Eagleton Elementary.
There are 441 students at Eagleton Elementary school. These are bright, passionate, smart, and really happy kids that just happen to be growing up in a low income neighborhood and food desert. Their staple meals are sodium and sugar rich cafeteria food and sodium heavy canned meals from the food bank. Many are growing up with a single parent who doesn't have time to cook or perhaps never learned how. Our students often leave home without breakfast and go to bed without a dinner.
Ron and Sarah (2 local community members) wanted better for these students. They wanted to break the statistic that says these students have a 41% higher chance of developing type 2 diabetes in their lifetime due to poor dietary choices. They rallied the support of Jovial Concepts, Feeding Many, the principal, a wonderful team of teachers, and other community member to give the school garden the TLC it needed!
We have been coming out 3 days a week, breaking our backs and sweating to move in the cinderblock for safe and long lasting beds, planting, watering, putting in irrigation, and weeding.
It took us 5 volunteer days to create 10 beautiful small beds, an herb bed, and 2 large melon beds for an outdoor learning lab for students. The cinderblock capstones arrived last week and students have been painting these to bring some extra color and life to their flourishing garden.
Your donations have been used to create sustainability for this garden: long lasting cinderblock beds, irrigation, and master gardener trainings for teachers and community members.
Joival started an after school club that averages 12 kids twice per week and extended through summer. Teachers got excited and adopted beds for each grade level at the school (PK-5). The Jovial Garden afterschool club adopted the other 3 and the melon beds.
We have already harvested 7 lbs of cabbage and lettuce that has gone home with students. We hope to continue the momentum into the new school year with plans for a garden to cafeteria program and youth run farmer's market. Our harvest this year will include, honey dew melons, corn, green beans, tomatoes, carrots, cabbage, bell peppers, onions, and more.
With summer school ending, we will need extra hands in the garden until mid-august when the kids return. Join us on any Sat. from 9-11a,.