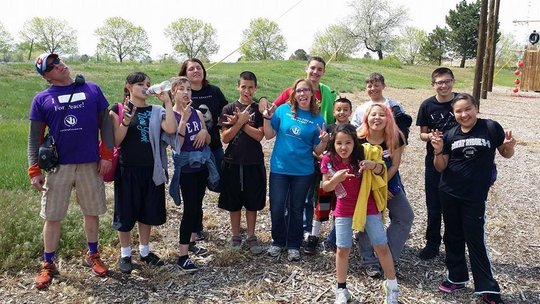 With the school year ended, we here at Jovial Futures are proud to report that over the course of our program we hosted on average between 10 to 15 students at our weekly meetings and those students who attended regularly had significant increases in their GPA from the semester prior (one student by 2 whole grade points!!) and experienced better commication with their parents.
Congratulations to our students for all of their hard work and consistant attendance.
Ropes Course
Our year ended with our much anticipated trip to the Ropes Course. Eleven students attended this high climbing, team building event and even though it had its challenges our students say it was the best event of the year.
The ropes course, run by Exempla West Pines in Wheat Ridge is a climbing and repelling is a climbing and repelling course that is used as the backbone of a team building program.
We started the day with team building actvities to show how communication and encouragement can lead to a better result. As afternoon dawned our students and staff had the opportunity to scale the many different obsticle that the ropes course had to offer, including, telephone poles, ropes and wires at various degrees of difficulty. By the end of the day each student and staff member was given the opportunigy to "Take the Leap" which involved climbing up (while harnessed) and standing on top of a telephone pole and then literally leaping off of the pole and grabbing a rope that represented that goal that we were reaching for. It was inspiring to watch our students encourage eachother and make it farther than even they though possible. We all learned valuable lessons about trust and teamwork.
A special thanks to Exempla West Pines in Wheat Ridge for their excellent program and making us feel so welcome.
Also a big thanks to Chipotle for donating lunch to all of our students and staff. It was delicious.
Summer Camps
Summer is here and our students are off to camp. All of our students had the opportunity to pick the camp of their choice and the camps choosen varied from Dance to Robot Building. Each of our students was greatful to have these opportunties and they are looking forward to attending their chosen camps this summer.
Upcoming School Year:
Starting in the fall Jovial Futures will be running a weekly program not only in Wheat Ridge 5 -8 but in Jefferson High School as well. We have added some wonderful new staff to get us prepared and organized for the upcoming school year. We are evaluating last years program and are making changes to include more community building and community service opportunities, as well as peer mentoring.
We are also looking to partner with a local mentoring agency in order to accomodate the larger pool students expected for next year.
Futures Goals:
All of our Jovial Students last year expressed an interest in our program getting our own building seprate from the school so that we could expand our program even further to include things such as tutoring and counseling . While there is no immediate plans to have a building by Fall 2014, we will be pushing to have a solid plan and timeline for a location by Summer 2015.
In the more immediate future, our goals for this upcoming year are to have around 30 to 40 high school freshman join our program and expand the middle school program to be between 30-50 students as well.
We are looking for mentors and profession speakers to inspire youth during our Wednesday programs. If you are in the Wheat Ridge/ Edgewater area and interested in mentoring a 7th or 8th grader please contact us!
Thank you for investing in our youth!