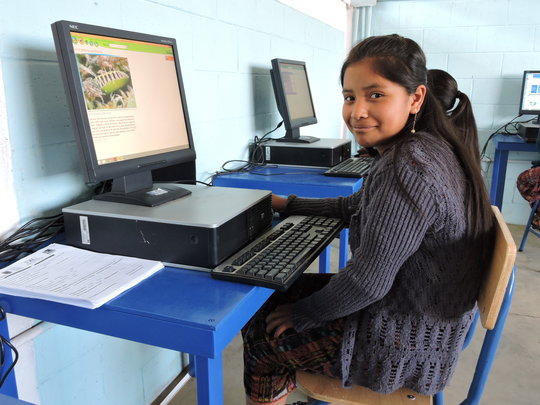 The 2015 school year started in Janaury. The harvest was disappointing because of the drought mid year 2014. Crops suffered, prices escalated, and many families strugged more than usual to buy their corn and beans, staples in the diet of the indigenous living in rural San Martin, Jilotepeque. The students, none the less, were excited to get back to school. Imagine their surprise when they learned their school was next to receive computers!
Those students attend elementary school in the rural village of San Bartolome. This is the school we told you about in our last report. The roof over the classroom to be used as a computer lab needed to be replaced before we could deliver the desks, chairs, and computers. Thanks to a generous donation in honor of their family, Tad & Rita Foringer donated the funds to buy the materials for a new roof. Working together, the parents tore off the old roof and installed the new roof in only five days. Teachers and parents painted the classroom. Now 140 students and 6 teachers have access to computers.
Our aim is to install computers at all of the remote elementary schools in San Martin, Jilotepeque.Using computers gives the students an advantage when they advance to junior high school. By installing computers in the remote schools, the students will be on an even playing field when they enter junior high school and some will have a better chance to compete for scholarships.
Students in remote Maya villages in San Martin where we work want to learn, want to change their lives, and truly aspire for more education. The majority of their parents cannot read or write. They know how difficult their lives are and wish for their children to have a chance to get out of the vicious cycle of extreme poverty that plagues the majority of indigenous families.
We have only met a small percentage of our goal. We need your support to continue to be able to provide computers to more rural schools. Hundreds of students are waiting ...
Links:
Schools are out in Guatemala, rainy season has ended, and the harvest will soon begin. The growing season this year was plagued with dry weather so crops have been damaged putting a strain on the food supply for the next six months. When this happens the cost of corn and beans escalates putting additional hardships on parents trying to feed their families. But parents are determine to help their kids see a brighter future and are willing to commit to supporting our computer projects.More teachers and parents are asking for help.
During school vacation is an excellent time for the parents' committees to spruce up the classrooms where computers will be installed in early January. In San Bartolome, a small village about 25 minutes from our field office in San Martin, the parents worked to clean and paint the classroom, however, the roof is 18 years old and has gaping holes so a new roof will have to be installed before we can supply the computers. The cost of the roof is $2,000 and we need to raise the funds for this project.
Another school slated for computers in early January is the elementary school in the village of Santo Domingo. Adults in this community remember the earthquake on February 4, 1976, that devastated most of Guatemala. Antonio, now 45, told us, "After the earthquake, I can remember sitting on a cement block and balancing my tablet on my leg to write the letters." His dad allowed the teachers and students to use his porch for classes because the school was destroyed. Thirty eight years later the students in Santo Domingo will learn how to use a computer and enhance their studies using pre-loaded educational software. Antonio said "Computers for Santo Domingo school is a gift. It will prepare them for secondary school. Thanks to People for Guatemala, their futures will be different." 95 kids attend this school.
The majority of the students in classrooms in the United States have computers and internet. Some fortunate school districts provide tablets for every student. What a dream for the teachers and students in rural Guatemala. An unbelievable fact is that 70% of the teachers in remote villages have never used a computer. None of the kids have ever seen a computer, much less know the power of learning a computer can provide. They are not prepared to compete for scholarships for secondary education. We aim to change that, one school at a time.
With your help we can continue to provide technology and training for teachers and students and unleash all of the possibilities for the people living in remote villages in San Martin, Jilotepeque.
Links: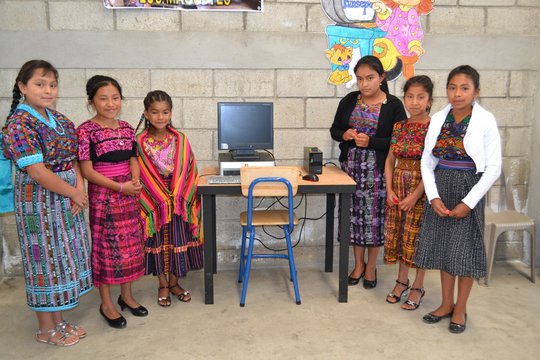 Recently we sat down with a15-year-old student attending Tierra Colorada junior high school. This village is located about 30 minutes from the town of San Martin, Jilotepque. We take the opportunity to visit with the students in our scholarship program to learn from them...what are they thinking? what do they need? what hardships are they enduring to attend school? what problems are they facing every day?
When asked "What do you need for your school?" Brandon answered "A library". He said "We have to read books and write book reports but my friends do not have a scholarship like I have and they cannot afford to buy the books. I watch them suffer. We need a library so they can check out the books". I gave him the task of writing a list of the books they need and possiblty we will be able to help the kids receive the books.
"Is there anything else you need for your school?" I asked. "Yes" said Brandon. "Our computers are 'dinasaurs' and most of them do not work. We need new computers and the internet at our school. We want to learn about the world".
Brandon has to walk 45 minutes to school each way, rain or shine. When he is not in school or studying he helps his father plant coffee. Without our scholarship he would be destined to spend his life hoeing fields. But now he is in 8th grade and he wants to "learn more about the world". He has a simple request...to learn more about the world.
Computers and the internet is really Brandon's only hope to see beyond his village and the coffee fields. This is why our technology program is so vital to the education of the students in San Martin, Jilotepque. We strive to continue installing computers in rural villages and with your help we will meet our goal!
WARNING: Javascript is currently disabled or is not available in your browser. GlobalGiving makes extensive use of Javascript and will not function properly with Javascript disabled.
Please enable Javascript
and refresh this page.