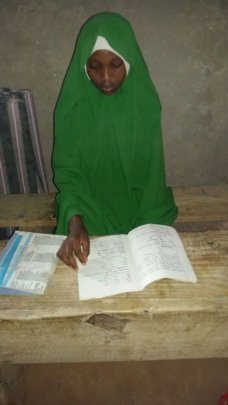 Dear esteemed supporters.
As we approach the end of another successful and wonderful year, allow me to share with you some of our success stories.
First and foremost, on your behalf, GENCAD's Trustees and our volunteers, I had the pleasure of wishing success our 2016 candidates for the Kenya Primary School Examination (KCPE). 36 girls who are part of our intervention project have completed primary education and we are very confident that they will perform well and secure admission to secondary school next year. It's our long-held conviction that these wonderful girls who have braved the many challenges in their lives and worked so hard to complete primary education will not be denied secondary education because of lack of school fees. We are determined with your support to ensure that they will transition to secondary education come 2017 and stay for the full four years. We thank you for your continuous support.
The intervention we are providing is really making a difference to the achievements of our girls. For example, at Elwak Girls Primary School, 75% of the girls have improved in their school's ranking since the beginning of the intervention. Remarkably, at AL Uweis Primary the performance is even more impressive 88%.
In addition to the whole cohorts performance, our project coordinator this term looked into individual cases. One such example is Khadija, a class 7 pupil at AL Uweis Primary School. Her family lives nearby the school. The local community practices polygamous marriage and large family. Khadija's family isn't any different. Her father is married to two wives and has twelve children including her. Khadija's father Abdi is a livestock keeper while her mother and her step-mother are both housewives. They live in a small Somali hut without basic amenities. When GENCAD was introduced to Khadija's school, she was identified by the school administrations as a beneficiary. Main reason why she was chosen is because she is always hardworking in school and also needy. Since Khadija joined GENCAD program in class six (6), the school's head teacher, Mr. Hasow, reported significant improvement in her performance. Looking at the school's performance data will explain why Mr. Hasow is jubilant about Khadija's performance. Since the beginning of the intervention lessons, her class position ranking has increased by 43%, while scores in Maths and Kiswahili increased by 8% and 16% respectively. There was a drop of 7% in the Kiswahili performance. Overall, we are very excited for Khadija's improved performance and indeed the rest of the students.
It's because the evident targetable improvement we see on daily basis that we are so proud of our program.
Once again, thank you all our esteemed donors and supporters and hopefully, in our next report, I will be able to share with you the results for the 36 girls who have completed primary education this year. I hope that you will continue lending us your support to ensure that transition to secondary school.
Please visit our facebook page and our website to learn more about our programs.
Thank and May God Bless you.