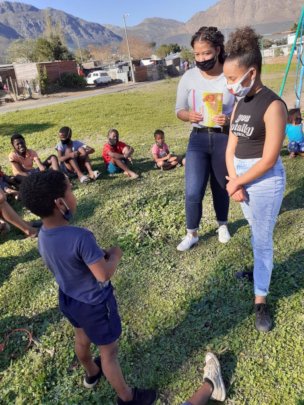 The Covid-19 pandemic and national lockdowns have had a considerable impact on the way we work at Help2read resulting in adaptions to the Help2read LT programme that will still have similar outcomes.
Positive developments
Dennegeur Primary's Literacy Programme will start on 1 September 2020.
The month of August held in some new and exciting challenges and adventures. One particular highlight of this month is that from the 1 September the LTs will be going to school, assisting the teachers, helping to implement and ensure learners apply social distancing and reading to the learners. We are hoping that we can start our one-on-one reading sessions with the learners soon.
The LTs are very excited and not sure what to expect, but they are so passionate about making a difference in their community. They can't wait to read to the learners and share stories. Talking about things that affect them in the community and how the learners must still strive to achieve, to dream and believe in themselves.
"Our team met for the first time since lockdown was implemented on Thursday, August 20th. The venue was amazing and it was good to be on the beachfront. Even though it was just six of us, it was good to get back to basics and get updates on how we are going to proceed as a team in the near future. Moving forward is going to be a challenge, but with The Programme Coordinator, Anrika's assistance, I'm certain we will land on our feet again at Dennegeur Primary. We just need to focus, work together and practice good social skills and be safe at all times." - Anthea Sutchant - Senior LT at Denneguer Primary School.
Sobambisana Primary School
This month have been challenging and productive back to back meetings with principal at same time, all of the grades opened and we had a lot of work assigned to us but as a team we have managed to cover all of the work.
Wemmershoek Primary School
Opening of schools:
The grades R,1,2,3, and 7 are back in school and our tutors assist the school by helping with the screening process in the morning. We are also available if the teachers are preoccupied with other tasks, to help with marking books, photocopying, etc. We also monitor that all safety protocols are followed during bathroom breaks as well as during recess. The principal and teachers are appreciative of our assistance and willingness to help.
Assignments:
The literacy tutors are enjoying the assignments and are always excited about the upcoming assignments. It also helps tutors' bond and maintains a healthy relationship with one another.
Literacy Tutor Assignment Framework
These assignments were given to our Literacy Tutors during the COVID-19, Pandemic.
The assignments kept our LT teams busy during NATIONAL LOCKDOWN. It allowed them to reflect and to develop themselves virtually.
Assignment Number
Description
1
Work Readiness
This assignment was based on what the LTs had learned in and during the 1st term. They have received training and they had to put everything they were taught into work.
This allowed them to reflect on their progress.
2
Reflection, Goal-Setting, and Action Planning.
This assignment was based on the LTs plans, giving them time to reflect and refine their future plans.
They were asked to set goals they wanted to achieve while being with Help2Read.
3
Self-awareness and self-management
This assignment was on the awareness of their surroundings and their resilience during the pandemic.
What they noticed about the changes we were experiencing, what changes their families were experiencing.
How they felt about the changes taking place within their communities.
The transition of working within a school to now working remotely.
4
Personal Values
This assignment was aimed at the personal beliefs of the LTs.
How they were raised/ taught/ and their takes on the different scenarios given.
Their responses were recorded.
Many of them were brave enough to speak out about the topics covered in the assignment.
5
Critical thinking
This assignment was aimed at the critical thinking of the LTs and how they would handle difficult scenarios within the schools they were placed at.
6
Creativity and Learning
This assignment was all about creative expression.
LTs had to create something creative, that will help them identify with what they were experiencing during the pandemic.
They were allowed to create a TIK-Tok, video, song, poem, etc.
Anything to help them express themselves creatively.
7
Social Innovation Challenge – Preparation Task 1
Individual LT tasks became Team tasks from assignment 7.
Teams were tasked to work out a plan on what with make their team successful and what will make them fail.
They had to set boundaries in place for the assignments to follow.
Teams had to work on their ethos of engagement. As all of them were working remotely, their scheduling and time management were vital.
8
Social Innovation Challenge – Preparation Task 2
Teams had to unpack different terms given to them, this allowed them to research to make sense of what the terms provided for them in the assignment meant to them working in a group setting.
Teams had to refine what they wanted to achieve from the Social Innovation Challenge.
9
Social Innovation Challenge – Pre-Task 3
Conflict Management and Critical Thinking
Teams were given a problem statement, they had to come together to brainstorm the different outcomes of the impact that team conflict can have on the team
They had to discuss how they wanted to be treated and what their expectations are when they should have issues arise in their teams.
10
Social Innovation Challenge – Launch Week
Teams were tasked to read an article written by the Daily Maverick, where they asked to identify 5 key thoughts on children returning to school after lockdown.
Teams Reflection after every part of the assignment is vital.
11
Design Thinking
Teams were asked to present their understanding of what Social Innovation & Design Thinking meant to them.
They had to create a resource explaining to their peers / LTs at other schools what those terms meant to them and how they have applied their knowledge of the terms.
12
Design Thinking Principles
Teams were tasked to create a stakeholder map, identifying the different stakeholders they thought were affected by the challenge statement provided.
13
Themes -Trends-Patterns of Design Thinking
Empathy
Teams have to conduct interviews with all the stakeholders they identified in the previous assignment.
They need to use the responses they gather from the interviews to identify any themes, trends, or patterns.
14
Ideate
Teams receive a list of different ways to refine the idea they created.
Teams are tasked to create a vision statement, telling us why they think it is important for them to see the assignment through to the very end.
15
Prototype
Teams need to create a prototype that they will use to test with their stakeholder group.
During this process, they need to create a video and write a 2 pager on why they think they are the best team
16
Creative Writing (Fiction & Entertainment)
Based on their book reviews, that they are doing.
LTs need to identify the different styles in which the books are written.
17
Reflective Writing
Reflecting on the journey as a Lt.
LTs need to tell us about how they have experienced the year, how they found the assignments and what we can change going forward.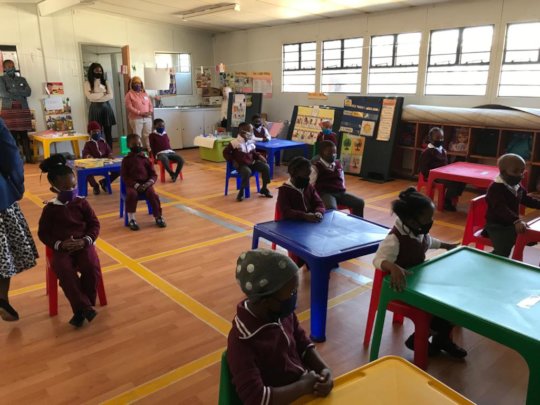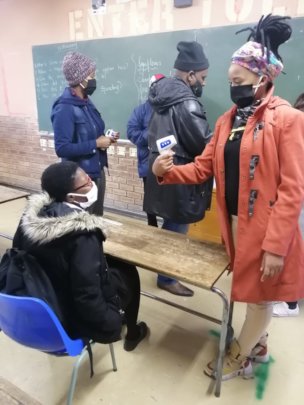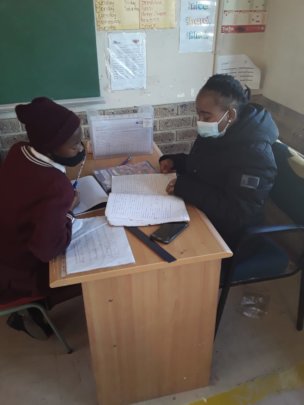 Links: