I know I am speaking to one generous donor who funded the entire program. I wish you could have seen the kids with their different learning stations for beading, paper mache crafts, science experiments, chess lessons, music and art. The 3 days per week when music was taught, we were full to capacity....about 150 children...and somewhat fewer but still a large group the other 2 days.
As expected, lunch was a huge draw as this was likely the most hardy meal these kids had all day. There was a great menu which changed daily but included veggies as well as tortillas, soups, atol (a native hot drink, in this case made with nutrient rich Incaparino), and eggs.
Besides the obvious benefit to the children, the program offered good employment to several people from this desparately poor town. When I ask individuals what is most needed, the answer is most often 'employment'. Not a hand-out, just an opportunity to work.
Deep gratitude to you, mystery Donor. Our Vacation School program will finish next week with a big party. School classes will resume mid-January.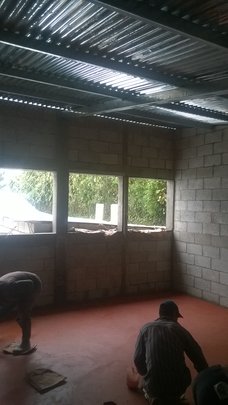 Hello Generous Donors....
Guatemala Housing Alliance's floor project has been on hold for the last couple of months as we've taken up other chores, the main one being the building of 2 classrooms in the small K'iche' community of Pasajquim. 89 pre-schoolers had been crowded into 2 small, 14x17' classrooms but next year will be able to spread out into these 2 additional and more spacious rooms.
We've also been busy orchestrating a Vacation School in that same community. School is from late October til mid-January, and we've shown 150 kids a daily good time, including crafts, reading, chess, art, music, science experiments and, very importantly, a meal.
So...I have no floor photos to show you, but have sent along a couple others of our recent work. We will continue the very important floor project after the new year.
Peace all.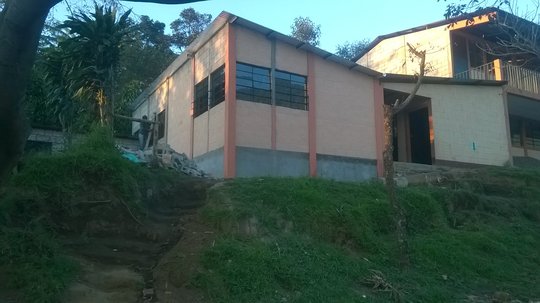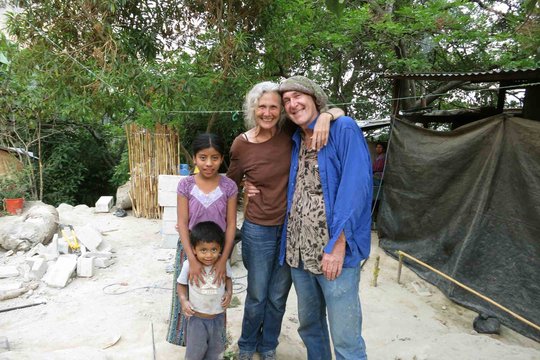 O....a tremendous thank you and thunderous applause from the kids of Pasajquim!! Never in my wildest imagination did I think someone would come forward so generously. I will send photos in November.
Pasajquim is a community whose municipal offices are over an hour away, thus it gets little attention. There is no tourist economy and the coffee production that would normally employ many people, albeit for puny wages, now has a blight. A program like this brings some hope, some sense of solidarity. Our little organization, just 3 years old, supplies the only meds to the tiny clinic, has brought most of the books that are in the community, has built homes for the most destitute, given scholarships to make persuing an education possible, and will build 2 classrooms in November.
If you are interested in knowing of our little beginnings, I have attached a YouTube video of a PechaKucha I did a year ago.
https://www.youtube.com/watch?v=4_bPuiqC_0I
Inna, from our hearts, thank you
WARNING: Javascript is currently disabled or is not available in your browser. GlobalGiving makes extensive use of Javascript and will not function properly with Javascript disabled.
Please enable Javascript
and refresh this page.