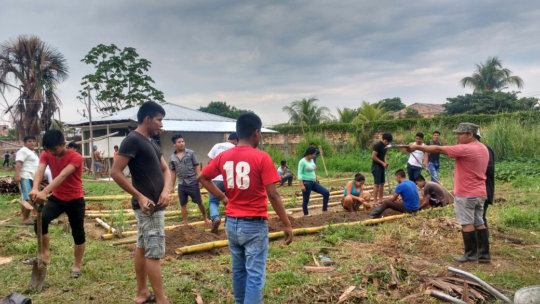 Dear Friends & Supporters,
Education is vital in shaping tomorrow's society. Yet in Peru, it has never been a priority on the government's agenda: time and time again, investments are made for other sectors while education is left lagging behind. Over the past months, this neglect boiled over as teachers launched nationwide strikes and protests to demand better working conditions and salaries, only to be met with police brutality.
For Peru's indigenous youth, the challenges and inequalities in education are multiple. At the higher education level, Iquitos-based indigenous student organization OEPIAP is trying to make a positive, meaningful change. During their holiday months between July and August, the students organized protests in order to make the government keep its promises: they occupied the entrance to the regional government, and called attention to agreements signed by the regional government for the construction of a permanent student centre, which would provide the adequate living and study conditions for indigenous youth of the Peruvian Amazon pursuing higher education in Iquitos. To empower OEPIAP, we've been accompanying their leaders in their meetings with the authorities as well as providing technical advice and input for the lobbying process.
"We are not living in adequate conditions. We are worried about the process for the land [for the permanent student centre] being delayed. We did achieve to initiate a dialogue with the regional government and the University of the Peruvian Amazon. But the state always tries to delay things through processes of dialogue and bureaucracy. They might not have the will, but we have the strength. It is only when we put on pressure, protest and take action that the state shows some will. We are motivated: our objective is to get the land this year", says Elisvan, Vice-President of OEPIAP.
Dreaming together with the students of OEPIAP, we understand that "building" isn't just about the student centre – it's also about building capacity and skills. Using resources from this campaign, we took the opportunity to develop a series of workshops and classes for academic support including English classes, mathematics classes, and a communications talk on the Internet, social media and photography. We also held a workshop with a core group of students to start building editorial content for the upcoming OEPIAP website.
Meanwhile, the seeds sown at OEPIAP's new urban gardens, as part of our Permaculture work with the students, are beginning to give life with the likes of lemongrass and basil plants, and sprouting baby papaya and tomatoes growing. To implement three more plant beds, we coordinated a minga (community work) attended by over 30 students. Later on, a small team of students worked on sowing new seeds in the garden including peppers, coriander, lettuce, and cucumbers.
And as always, increasing visibility on the challenges faced by indigenous youth in the Peruvian Amazon remains an important part of our work. Watch our trailer "Floida", an inspiring video portrait of a young Kichwa woman and student in Iquitos. Floida's story reflects the experiences lived by many students of OEPIAP, who confront harsh inequalities yet stride on forward with courage and perseverance. Having left their far away communities to study in the city of Iquitos, life can be a struggle for the indigenous youth of OEPIAP. But with your support, we can actively improve and increase access to higher education for current and future generations of Amazonian indigenous youth.
Above: A still from "Floida". Watch the trailer
We'll keep you updated with the latest news as we continue to run our campaign for the full goal of $24,000.
Sign up to The Chaikuni Institute newsletter here for exclusive updates on the project and news on our work in the heart of the Peruvian Amazon.
With Gratitude and Love,
The Chaikuni Institute Team
Above: Tomatoes growing in OEPIAP's urban gardens, Iquitos, Peruvian Amazon