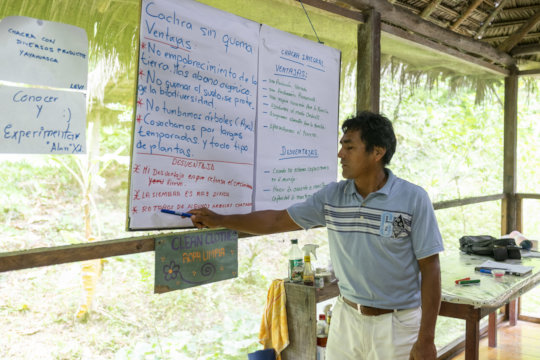 Dear Friends and Supporters,
Since we last reported to you, we have continued our on-the-ground work to bring chacras integrales – diverse, regenerative and resilient agroforestry systems – to the surrounding communities of our permaculture centre, situated a couple of hours outside of the jungle city Iquitos, in the heart of the Peruvian Amazon.
Our dedicated permaculture team has been supporting the local farmers that were trained in the permaculture design course (PDC) in May to establish these chacras integrales on their own land. Implementation happens through so called mingas, where, additionally to the Chaikuni team, family and friends of the owner of the land come to lend a hand during a full day of communal labour in the field.
We are currently working with a core group of 10 local farmers, and support every participant with three mingas to help them on their way to establishing their own chacra integral. By the time of writing, and since we last reported to you, we have organized, supported and participated in 13 such communal work days, and 3 more are planned for this year. By now, five of the participants have fully established their agro-forestry plots, and one more will have his chacra integral up and ready by the end of the year. Each chacra being approximately 1 hectare, we will count 5 to 6 hectares of these diverse, productive, regenerative and healthy agroforestry plots.
Additionally, we also held 2 full-day workshops with this core group to refresh the knowledge from the PDC and address questions and issues which the participants experience during the implementation of their chacra. When asked about their experiences so far, one of the participants, a local farmer called Levi, lit up. He told us that while he used to mainly plant yucca and plantain, he has now opted for a much more diverse chacra integral. He recently had his nephews visiting him, and said they were all excited about the various different fruits and products they found growing on Levi´s land, tasting a bit of each.
At the Chaikuni Institute, we are as excited as Levi to slowly but surely see the fruits of our outreach work. For the next year and a half, we have set ourselves the goal to increase the number of hectares to be turned into chacras integrales to 24, regenerating degraded land, turning it into productive and healthy food forests, producing benefits for the local farmers, the global community, our climate, and the Amazon rainforest alike.
We are as committed as ever to keep creating a movement to regenerate the Amazon, hectare by hectare, which we cannot do without you having our back. Thank you so much for all that you do to support local communities in the Peruvian Amazon and for being part of our movement.
With gratitude,
The Chaikuni Institute Team