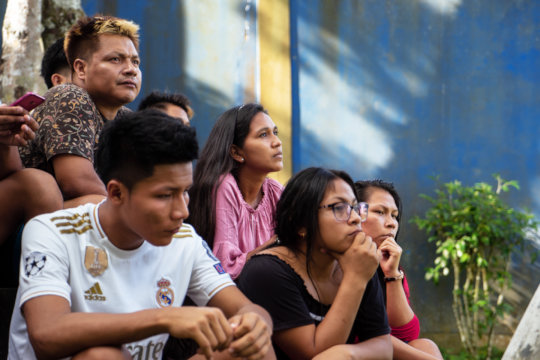 Dear Friends and Supporters,
We hope your situation -in all the aspects of your life- has improved. Fortunately, the worst part of the Corona pandemic appears to be over here in Iquitos. As you may have read, reports claim that Iquitos is the city with the highest immunity against COVID-19. Research estimates that 70% of the population had contracted the virus. Today, most people go about their life in a completely normal way. Although the state of emergency continues, many restrictions are slowly being lifted.
The public university UNAP, where most of the indigenous students of the OEPIAP are enrolled, started classes on July 1st. However, all classes are strictly virtual. During the first few weeks, this created a chaotic situation: the students had serious difficulties due to a lack of computer skills, and most didn´t have funds to access the internet. At Chaikuni we quickly responded to this situation and purchased five computers, a new printer and ten USB sticks with unlimited Internet, implementing a computer lab. The lab is managed by three students, who are in permanent contact with our team.
A few weeks ago, fortunately, the UNAP handed out internet modems to the students considered as poor or extremely poor by the Peruvian state. Thus, 61 students of the OEPIAP benefited from this support. At the same time, 18 students of OEPIAP were able to get a scholarship from the NGO Chirapaq, which included a personal computer. Furthermore, we have identified eight potential applicants for state scholarships next year and are accompanying them in their application.
If studying under normal circumstances was a challenge, studying "virtually" is even more so, putting many of the indigenous students at risk of dropping out. The terrible internet connection in the Peruvian amazon often doesn´t allow them to properly follow the classes, which is having consequences on their academic performance. Therefore, we started to organized more intense tutoring classes as soon as the situation allowed us to. On July 23rd, the first math class started with twenty OEPIAP students. To date, we offer six reinforcement courses: Basic Math, Advanced Math, Physics, Statistics, Oratory and English. All of them have at least six students enrolled, and, together with the teachers, we continually supervise their performance.
As you can see, at Chaikuni we had to quickly adapt to the new situation created by the pandemic, and so we did. Moreover, over the coming days, we will slightly adjust our project here on the GlobalGiving page to better respond to the current situation.
The students – as we all - also needed a break from the stressful situation of the corona pandemic. To do this, we got back to offering other extra-academic activities such as self-representation, musical creation, photography and video workshops. Most notably are the workshops we co-organized with Radio Ucamara, a local radio station and long-term ally of the Chaikuni Institute.
Always strictly complying with security protocols, a handful of particularly creative students got together and reflected on their experiences during the pandemic, writing lyrics and creating several music videos, singing and rapping in Spanish and their native languages. The videos are available on YouTube (click here). Reflecting on identity, health, gender, and other current issues, these creative workshops increase the artistic (singing, body language, composition) and technical (camera management, production, photo and video editing) skills of the participants, while at the same time stimulating self-reflection, interculturality and friendship.
Finally, OEPIAP reached another great achievement. On August 5th, UNAP signed an agreement to hand over a 13-hectares of land to the students on a long-term lease, with the objective to finally build a permanent student centre for indigenous students in Iquitos. Now, OEPIAP, with our support, is looking for new alliances with private or public institutions to finally build their own residence. While still long ways to go, this is without a doubt a step in the right direction to accomplish their dream, all of it happening during these challenging times.
As always, we thank you so much for your support to the indigenous youth in Iquitos, the future leaders of Peruvian Amazon. We continue our efforts thanks to you. Together we can achieve great things.
With gratitude and optimism,
The Indigenous Students of OEPIAP and The Chaikuni Institute Team