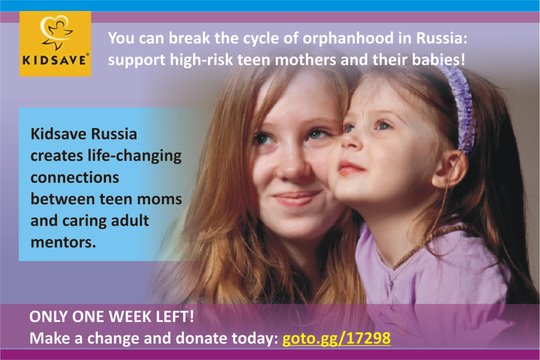 The path of a young, pregnant girl alone in the world is challenging. Saddled by a lack of income, no place to live and no parenting skills the odds are with teen moms giving their children up to the orphanages. That's why the Malenkaya Mama Program was started — to help teen moms raise their babies — or support adoption plans that allow the babies to grow up in families. This early intervention program, with support from social workers and volunteers is helping young moms in Russia raise their children.
After rough starts, the girls are maturing into loving moms. Two years ago a young girl came to the shelter highly stressed out and depressed. She suffered from a lot of abuse as a child, started using drugs and alcohol very early, was taken to the orphanage. At 16 she got pregnant and entered the Program.
Her mentor remembers how she felt close to this girl and her child immediately, but it took some time and effort to connect. Baby steps – listening, talking, laughing, crying, taking care of the baby together, walking, going to the mentor's office, shopping, calling each other just to say "Hi, I'm thinking about you…"
Step by step, they created a connection that changed their lives.
Two years have passed. She is now living on her own. We were checking out social media posts last week and saw her heartwarming post:
"Happy.. because I'm singing a lullaby…because these little hands are touching my hair.. because my hands are holding the whole meaning of my life.. because every night I'm kissing her cheek.. happy.. because I'm a mom…"
Caring and trusted mentors can encourage and empower these young mothers, provide them with opportunities to continue their education, develop new skills and find a job.
Thank you for your support and please invite at least 1 or 2 of your friends or colleagues to contribute to the campaign. Help us create more of such lasting connections and keep these teen moms and their babies together!
Links: