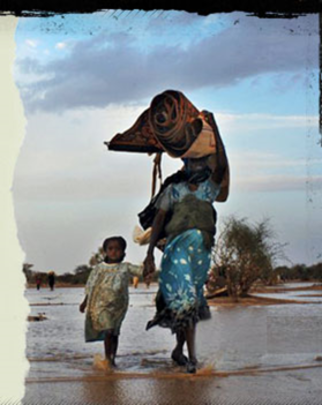 Dear friends and supporters,
Happy Mother's Day
It is already summer in Indianapolis; we are excited to grow our own vegetables soon. The most exciting thing is your support for survivors of Darfur genocide who are in the camp, 85% mothers and children. Experiencing war is the worst thing in a human's life. I remember, almost two decades ago, when I visited my family with my 11/2 years old son.
Afternoon of quiet day, we heard that there was conflict between my tribe and another one in a village far away from the city. Suddenly, it reflected in the city and the atmosphere was changing. There was a rumor that we were targeted and everything was changed while there was no protection, communication, or transportation.
Next early morning, the other tribe looted all my tribe's shops and houses of the rich people and declared that we were under attack. I heard different types of weapons around and voices of my tribe enemy threatened, it was real scary specifically when you don't know where to go and how to survive.
I remembered my mom saying to me, "Mastora, I am sorry that you had to visit us and this conflict happened, no one predicts what will happen during war, but we will stick together, please if we are killed don't leave your son behind if he is alive." My mind could not accept the fact that my innocent child could be killed as happened to many kids his age. My mom and I had to stay three days and two nights without sleeping and expecting to be attacked in each second of the 72 hours. Now, my mom's voice in my ears, I hear it throughout two decades and still follows me.
Therefore, I always work hard to support those who experienced worst that I did and now, they are in the refugee camps to continue their suffering. I always feel that I am so lucky to have Global Giving to help with connection, training and many great services and have you put your trust and your donation to make difference in women and girls world.
I would like you to celebrate Mother's Day with me to say Happy Mother's Day to all mothers in the world.
We need to celebrate Mother's Day in two ways: To protect girls from rape by providing a safe stove for $10
Or to match your donation on May 13, Bonus Day-Global Giving will match the entire donation on May 13TH day long.
Please check the link: http://goto.gg/14531