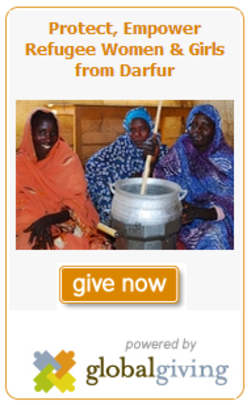 Dear donors, partners and supporters:
We simply do not know how to express our appreciation and gratitude for your continued support and generosity. So, we have provided exciting news from the field as our gift to you. We thought you should know that because of your charitable donations, the women of the Darfur refugee camps have made great progress!
DWN is very serious about measuring our impact, obtaining evidence about the effectiveness of projects, learning from experiences, reflection and defining areas of improvement.
Our very important goal is to make and provide 7,000 Darfuri refugee mothers with lifesaving safe stoves—at no cost—to reduce the number and distance of trips made to collect firewood from the forest. Firewood collection trips are extremely dangerous and often end with rape and attacks against vulnerable women and girls. Other serious risks of traditional stoves include smoke inhalation, burns to children and accidental home fires.
Our solution thus far has been the formation of production groups in Touloum camp to produce safe stoves. The production groups, made up of 50 women, have created over 400 units, which we have distributed to 100 widows and 300 of the poorest families at no cost.
This project has empowered women economically, by allowing them to provide care to their family members. This includes building rooms, purchasing new clothes, food and school supplies. The rest of the money was used to transfer their safe stoves and sell them in the nearest cities. Trips to collect firewood by the 400 beneficiaries has been reduced by 75%. This means that our beneficiaries are collecting firewood once a month from a shorter distance, compared to those on our waiting list at four times a month at much longer distances. Thus far we have helped 2,400 families by creating a healthy and safe environment. All of the refugees now know about our safe stoves and the positive impact they have had on the producers, as well as the beneficiaries.
To declare Touloum camp free of deadly traditional stoves, we need to develop our financial status, recruit additional staff and connect with more donors. Once this is achieved, we can move onto the formation of 100 groups of women making 6,600 safe stoves to be completed within a five month timeframe.
We need your help in order to do this, and invite you to support us in declaring Touloum camp as traditional stove free. Your upcoming opportunity is July 15th. Are you ready?
Starting at 9:00:01 EDT on Wednesday, July 15th, $115,000 in matching opportunity will be available on globalgiving.org. This is our largest Bonus Day of the year! For the first time ever, Global Giving UK will also match £8,500 for projects listed on GlobalGiving.co.uk on the same day! Matching will be based on your Partner Rewards Level. Partners will receive a 30% match, Leaders will receive a 40% match, and Superstars will receive a 50% match.
Here is the link to donate:https://goto.gg/14531
We are looking forward to your support! Please help us reach our goal and provide hope to Darfur families by sharing with your family members, your friends, and your network.
Links: