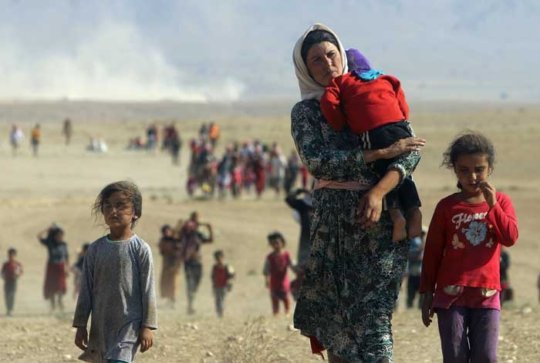 A key factor in the Social Health Care for Healing Syrian Refugees program is building capacity of available trained professionals on the ground serving the trauma care needs of the refugee community. SHC has launched a collaborative effort with Jordanian universities and two U.S. universities ( Chicago School of Professional Psychology, and Michigan State University) to establish two major training initiatives. These training initiatives are on two tracks:
a. Establishing a diploma (certificate) program in social work with the U.S. universities providing certification of the training, curriculum support, and some virtual classes in partnership with Jordanian universities. Additionally, SHC will provide field experiences/supervision/and some trainings.
b. Establishing a graduate degree program in community psychology specifically designed for addressing the trauma care needs of the refugee populations in Jordan. SHC helped design the curriculum along with a faculty member of MidEast University/Jordan. With our partner American universities, we will be able to create a certified professional level degree offering classes on the ground and virtually as well as create field experiences for the students at sites in Jordan offering services to the refugee needs. What is common for many NGO's in the region is to hire BA level psychologists with little clinical training if any to address the psychosocial needs of the refugees. Both of the training programs help build an informed cadre of people to effectively address the overwhelming trauma treatment needs being witnessed.
Additionally, because of the growing migration crisis in Europe, SHC has been contacted by organizations in Greece and in Germany for help. Staff there are overwhelmed by the level of needs, their lack of cultural understanding and lack of training in how to address the needs they are witnessing. SHC staff will be going to Greece and Germany in July to provide training in cultural adaptation of trauma care services, crisis intervention, self care skills, stress management, nonviolent communication, and psychosocial support groups. While there, SHC will meet with cases referred for assessment and treatment.
November 1-3, an International Conference on Communal Trauma and Forced Migration: Crisis in Europe and the Middle East has been scheduled in Freiburg, Germany. This conference marks the launch of a German-Jordanian Cross-training Project which brings trainings needed on both sides in trauma care and cultural sensitivity. IHPA,Common Bond, and SHC are sponsoring this conference to provide education on the psychosocial needs of the refugee populations and make recommendations to policy makers.
Lastly, SHC continues to provide training and support to refugees in Jordan at our pilot site and other NGO's that we are working with collaboratively. New efforts are being put together to provide means of economic support/business development for a number of Syrian mothers now heads of household.