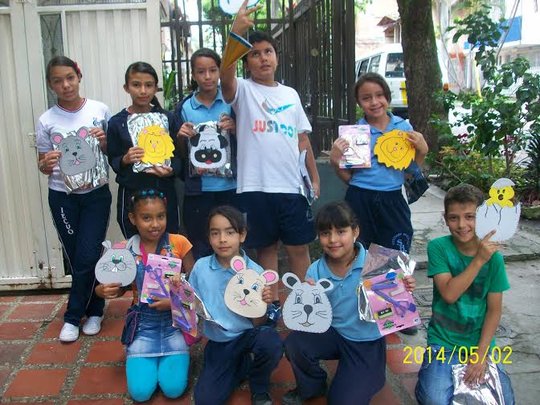 We are the giraldo family.
I am karina, i´m 9 years old and my brother braidy is 11 years old; we live with our mom and two brothers aged 14 and 16 years; my dad doesn´t live with us, my mom is head of the family; we are studying at the samuel barrientos elementary school.
We arrived at the "fundacion tiempo de paz" (peace time foundation) by a teacher named Luz Marina, she told us that we can go there (the children´s dining room "wheat and honey" located in san javier, part of the "fundacion tiempo de paz"). we attended another foundation before, but it´s over.
At the foundation we have a really good time, they give us food, they take us to the library, they speak to us about god, we pray, and we memorize histories from the bible; we do homework and have workshops with psychology.
At the present time our neighborhood is a good place to live.
When i grow-up i want to be a soccer player and veterinary doctor; i would like to have a four-story house. my brother likes computers very much.
Yes, we have changed because we would like to study, we would like to go to the college, to work and to have money.
We are not as naughty or rebellious as before, and we are content at the foundation.