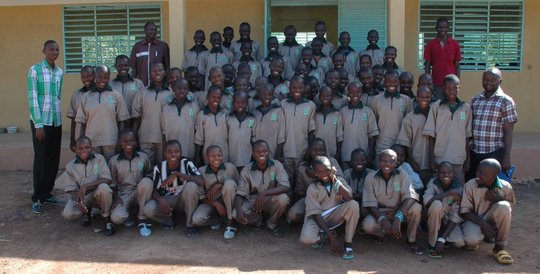 Report No1 Agricultural School:
We would like to thank all the donors for this project.
The funds from Global Giving have been received by our foundation. Global Giving is only one of the fund raising platforms we are using for this project. Funds already collected in France and The Netherlands have allowed us to start the school year 2013-2014.
Students:
We have now 166 students at the LAP (97 boys and 69 girls). We are missing our target which is to have 50% girls. We will work on this with our next recruiting campaign in July 2014.
In the first class we have 59 new students (21 girls and 38 boys). Here they are in the picture below with their teachers. The school year started on September 30th.
Teachers:
In addition to the school director teaching Husbandry and the Agronomy teacher, we have added 2 new full time teachers for French / History and Geography and for Math and Sciences.
Daily program of the students:
School starts at 8 AM and goes until 12 with a recess of 15 minutes at 10 AM. The school day proceeds at 15:00 PM until 17:00 PM.
Students are divided in groups to take care of the animals (pigs, chicken, and rabbits) and water the gardens. Those groups who's turn it is to water the gardens start at 6:30 AM and work also after 17:00 PM.
Meals are at 7:30 AM, 12 and 6:30 PM.
School goes from Monday to Friday and on Saturday mornings. This makes a total of 34 hours of lectures (including practical work) per week. This does not include the work before and after school.
It is a lot!!!!!
Parent's appreciation of the school:
When we ask the parents what has changed about their child since he started the LAP most of them agree that:
LAP students are more respectful of the adults
LAP students are better in working in the fields than before
LAP students are very clean
LAP students are growing a lot
Parents quote:
Quote from Benoit Millogo who has is child Renaud in school in the second year: "when Renaud came back during the vacation you could see that he understood what he was doing working in the fields, not as the other children".