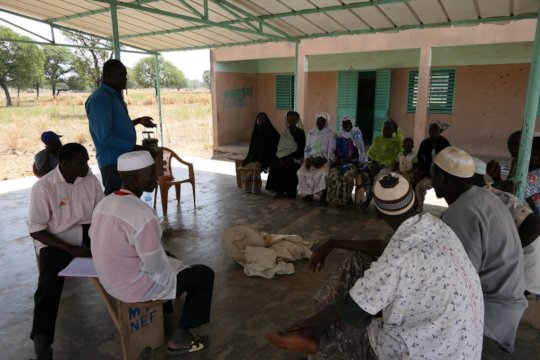 At time of harvest in April, we realise that at least a third of the beehives we had provided where not swarmed.
We first did a audit with a specialist to analyse the reasons for this situation. We found out that the unswarmed hives where not positioned properly (orientation or location).
In order to improve the knowledge of the beekeepers we have started a training in selected villages. The training goes over 2 days, including one session at night.
With the training we expect the farmers to have a better understanding about bees, to be able to recognize if the swarm is of good quality, how to position the hives, why does swarm leaves the hives, how to bring a swarm in the hives. The training will also help farmers to maintain and protect their hives.
This year the rainy season has stopped very soon and abruptaly. One of the concequence is a very poor harvest, but also fruit trees are flowering at least one month earlier than normal. During the training it has been advised to check on the production of honey has early as February (when it is normally done early April). It is important to harvest the honey at the right time.
With this training we expect to have at least 90% of the hives with bees and that the production of each hives will be between 7 to 10 kg of raw honey.
Results will be measured at time of harvest between March and April 2018.
We wish you a healthy and peaceful newyear.
Do not hesitate to communicate with your friends about this project.
Thank you again for your support.