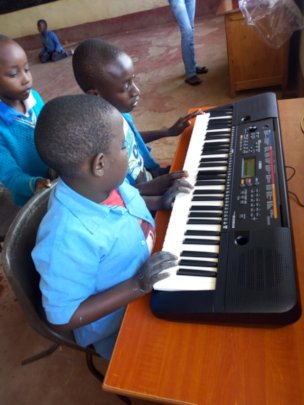 Hello,
This is such a strange and difficult time. Many of us are separated from our loved ones, dealing with the uncertainty of Covid-19 and the daily news updates can take its toll on our mental health, we hope you are coping ok.
Vic and I, and our team in Kenya, want you to know that we're thinking about you. Your support during this challenging time has brought light at a time of darkness and we thank you for continuing to stand by us and these children.
As I'm sure you may expect, the schools in Kenya are closed meaning most of the children we support are at home with their families, two children who don't have any family have remained in school and are being cared for by two teachers. Many of the families we work with have also lost their only source of income due to restrictions in place to stop the spread of the virus.
Thanks to your on-going support, and to our emergency response fund, we have been able to provide emergency support to several families who have lost their income and are struggling to provide for their children. We transferred emergency funds to them via mPesa transfer (a mobile phone currency) to adhere to social distancing rules. This enabled the families to buy a month's supply of food, soap, hygiene products and cooking fuel. Some families were also at risk of being made homeless because they couldn't pay their rent so we have supported them with that too.
It is costing £30/$37 to provide a month of food and essentials for a family of 5 plus an additional £40/$49 for those who need rent support. It is a worrying time for all of the children and families but they know that we will stand by them now more than ever, thanks to the wonderful support of kind people like you - so we just wanted to take this opportunity to thank you for enabling us to be there when we are needed the most.
Some lovely positive news is that when the children return to school they will be able to play on the new playground equipment we installed at the beginning of term and they'll be able to enjoy the new music room which includes a stereo to play music to the children and musical instruments including a keyboard which has been incredibly popular! Play and music equipment is so important for children with special educational needs, particularly the students who have autism as it gives them another sensory means of expressing themselves. We're hoping to provide even more equipment this year.
Work has started on constructing a learning laundry so the children can learn how to wash their clothes, preparing them for a more independent life after school. We've also finished installing a large greenhouse at one of the schools which will enable them to grow crops which will supplement the breakfast, lunch and dinners for the students - helping to make the school more sustainable.
Thank you once again for standing by us. We hope you and your loved ones are staying safe and well.
With best wishes,
Kirsty Erridge - Director
kirsty@raisingfutureskenya.org.uk