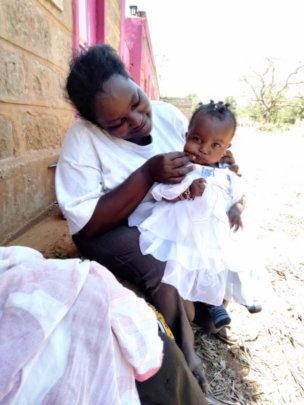 Hello,
Firstly, on behalf of myself, our team in Kenya and the children, young people and families we have been supporting during the pandemic - may we take this opportunity to sincerely thank you for your support. We appreciate there are many worthy causes so we are incredibly grateful and humbled that you have chosen to support us and stand by us during this worrying time, thank you.
As some countries are beginning to ease out of lockdown, the impact of lockdown in Kenya is going to continue to have a long lasting effect. Schools are remaining closed until January where students will repeat a year, school fees are going to increase and many families will still be without a job meaning many children sadly will not return to school.
Our vocational training centres are allowed to open in September but the simple fact is, the buildings are not big enough to adhere to the social distancing requirements. We will have to stagger the return of the students meaning that the remote learning, which our fantastic teachers have been providing since March, will have to continue to an extent. We will be able to have half a class back at the centres for practical sessions whilst the other half remain at home and then they will switch. The teachers and Florence, our Seed of Hope vocational training manager, have drawn up a plan of the changes we need to make including; building temporary classrooms, buying extra desks, chairs, hand washing stations, additional equipment so students don't share anything. It is going to cost $5,000/ £3,900 to make the necessary changes and adaptations to keep our students safe when they return.
Our teachers are determined to ensure that the students graduate as planned and don't have to repeat a year. They have been continuing to teach lessons via a mixture of WhatsApp groups, text messages and printed learning packs to ensure no student is left behind. It's more important than ever that students can learn their trade, graduate and start earning a living to support themselves and their families. Knowing the toll the pandemic and lockdown is taking on everyone's mental health and wellbeing, our team has been providing weekly counselling sessions by phone to ensure no-one feels alone and that they're supported through this.
Many families have lost their only source of income as travel restrictions in place to stop the spread of the virus have meant that casual labourers have lost their jobs, with no social welfare to support them they had nowhere to turn, no savings and no food.
Thanks to your generous support, we have been providing emergency food, rent and basic essentials for 358 children, young people and families since March along with counselling. We had anticipated needing to provide this level of support until September but the reality is that many will still have no means of earning an income to support their family so we have committed to stand by them and support them for as long as they need.
We are beginning income generation business training with 30 families in August and providing a small grant to help them set up their own small business, which will hopefully enable them to become financially independent and secure in the coming months.
There was already a huge demand for our free vocational training courses, the demand is only going to increase in the coming months as Kenya tries to recover from the economic impact of Covid-19, and for families who won't be able to afford to send their children back to school in January. We know from working in Kenya for 19 years that girls, and the most vulnerable, will always be negatively impacted the most so we are preparing for ways we can increase our support to those who need us most.
It is costing £30/$37 to provide a month of food and essentials for a family of 5 plus an additional £40/$49 for those who need rent support. It is a worrying time for all of the children and families but they know that we will stand by them, thanks to the wonderful support of kind people like you - so we just wanted to take this opportunity to thank you for enabling us to be there when we are needed the most.
We hope you and your loved ones are staying safe and well.
With best wishes,
Kirsty Erridge - Director
kirsty@raisingfutureskenya.org.uk
P.S. Please see some of the families your donation has supported in the photos.