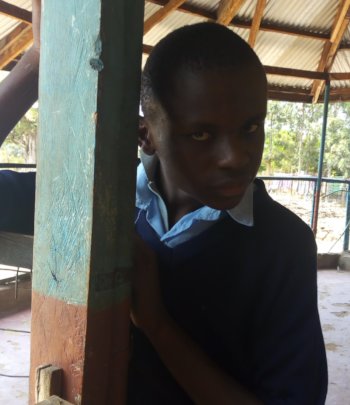 Thank you for enabling children like David to have a safe place to learn
By Sherry Waweru - Senior Programme Officer, Kenya
It is always exciting to visit Percy Davies, one of the special schools being supported by Raising Futures Kenya. This is because every time I pass through the school gates, heading towards the principal's office, I always get a warm welcome from the learners who run out calling me 'aunty'!
During my recent briefing with the principle he shared some news about a boy, David, who was brought back to attend the school by well-wishers after he was found wandering the busy streets of a town called Kenol.
David was among the first children to join Percy Davies special school when it was established to provide specialised care and education for children with a disability. For 7 years David, who has special educational needs, had made significant improvement in sensory, speech and fine motor skills. He could follow instructions given by the teachers and was thriving, but all this changed once his parents transferred him to a mainstream school since they believed that he was able to compete with other children. According to his class teacher, David was sadly bullied and discriminated against by other children which made him run away from the mainstream school and from home.
David became homeless and was alone on the streets begging for food and water, and was extremely vulnerable. It took the intervention of good people who traced his family and took him off the streets. They decided to sponsor him back to Percy Davies school where they believed he will receive the best care and support from qualified teachers and caregivers. It broke my heart when a learned about this story but am glad that David is now in a safe haven where his safety, security and general welfare is guaranteed. Percy Davies has reserved a place for former children who dropped out or transferred due to various circumstances. We will continue to support the two special schools to create awareness to ensure child protection is embraced by parents and the communities around them.
In other news, the schools have taken a recess to enable children to spend time with their families during the August holiday. According to Mr Samuel, the principle at Percy Davies special school, the children get very excited towards the end of the term as they look forward to going home and spending time with their parents and siblings. I also learnt that with the introduction of the competence based curriculum (CBC), learners from Percy Davies and Kirunguru special schools will sit for the foundation level assessment so that the examiner can monitor and provide evidence on the learners' progress. This is a nation-wide assessment being carried out for children in grade 3 at mainstream schools as well as special schools across the country. We wish all the best to our special school learners as they prepare for the assessment.
Lastly, there has been good progress made at Percy Davies school compound where the playground is being renovated to create enough space for additional play equipment but to also ensure safety of the children. Kirunguru special school has received new therapy equipment to enhance physio and occupational therapy that is being provided to each learner twice a month.
We sincerely thank you for the generous contribution towards our specialised care for 200 children with disabilities, as we would not have done this work alone without your support. Please consider telling your friends and family about our project - share the link on your blogs or social networks, or just bring us up in conversation and let people know what supporting our project means to you!
Thank you once again!
Sherry