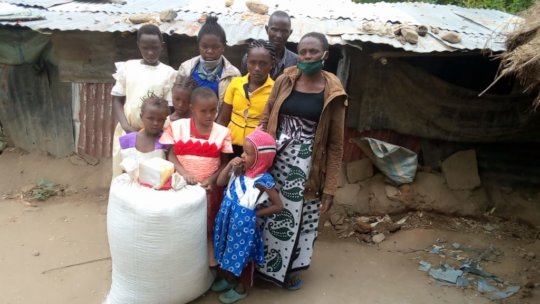 Hello,
I hope you and your loved ones have been staying safe and well over the last few months. I wanted to send you an update on the impact your vital support has had recently and to thank you for standing by us at a time when we are needed more than ever. Many funders are turning their backs on supporting international charities so we can't thank you enough for being a lifeline and enabling us to support some of the most vulnerable and marginalised young people in Kenya during the pandemic.
Our teachers and staff in Kenya have worked tirelessly since March to make sure that every student and family we work alongside feel supported and have the essentials they need to survive the implications of the lockdown. Our fear is that the economic repercussions of the pandemic will be far more devastating for the young people and vulnerable communities we work with than the reach of the virus itself. Our teachers and staff are determined to ensure that the Seed of Hope students can graduate this year, they know how essential it is going to be for students to be able to set up their own business as unemployment levels will be even higher in a post-Covid time, particularly in rural areas.
The team in Kenya responded incredibly quickly to transform our face-to-face vocational training programme into a distance learning programme, which they have never experienced before. They are teaching their lessons via WhatsApp, text messages and printed workbooks depending on the equipment students have access to, meaning they are having to do three versions of every lesson they have planned for the week to ensure no one misses out. They are remotely delivering all of the theory syllabus now and have made various contingency plans to be prepared for when it was likely that we would be able to reopen the centres again, hopefully small groups can return this month for practical lessons. Currently the Kenyan Government are aiming to allow vocational training centres, colleges and Universities to fully re-open in January with strict social distancing measures in place. The teachers will deliver the full practical training syllabus from January-March with classes divided and only half being onsite at a time, whilst not onsite they will continue at home with set work and then swap over.
Our teachers and staff are doing all of this whilst also dealing with the personal impact of the pandemic on their own lives, many members of their families have lost their income and are struggling to make ends meet. All of our teachers are having to adapt to delivering their lessons in a totally different format to what they're used to whilst also having to homeschool their own children.
Thanks to you, our generous supporters, we have been able to;
Continue providing distance learning to our 252 Seed of Hope vocational training students through a mixture of WhatsApp group lessons, text messages for those without a smartphone and printed workbooks which are dropped off for students to collect from a local shop for those who do not have access to a phone.
Provide mobile airtime (phone credit) for 63 Seed of Hope students to enable them to take part in online learning via WhatsApp as they couldn't afford it.
Provide mobile airtime to 9 teachers and 3 staff to provide weekly telephone counselling to 40 families in our Family Strengthening Programmes (where children have been reintegrated back into their families from children's homes) and 252 Seed of Hope students who are feeling scared and isolated at the moment. Counselling and mental health support is a key element of all of our programmes and this has become even more essential during these incredibly worrying and anxious times for the people we work alongside.
Support 417 children, young students and their families with monthly food supplies, cooking fuel, personal hygiene essentials and safety items such as face masks, soap and hand gel - which was transferred via mPesa mobile phone currency.
Support 26 families who are also at risk of becoming homeless as they have lost their income and can't meet their rent, we were able to pay for their rent.
The faces behind the numbers, meet some of the families you have supported
Elizabeth
Elizabeth's father lost his source of income after the market he worked from was shut down. He could not secure casual jobs to enable him to provide food for his family. The family had run out of their food supply and the father reached out to the Seed of Hope headteacher asking for help as he could not bear looking into the eyes of his children who were crying due to hunger. Since April, Elizabeth's family has been receiving cash via the Mpesa money transfer to enable them buy food and other essentials for a month. Elizabeth and her family appreciate the support from donors and this is what she says "I want to thank all the donors for their generosity as they have come at the right time to rescue my family. We will forever be grateful as we do not have to worry where the next meal will come from." Elizabeth is among students who collect notes from a nearby shop, as the family do not have a smart phone where she can participate in online learning, although they get follow up calls and short text messages (SMS) on the topic to cover each week, notes and quizzes.
Annet
Annet is among the Seed of Hope graduates who are being supported. She graduated in January after completing a course in fashion and design. She lives with her older brother and his family who have supported her through her time studying at Seed of Hope. Annet was doing an internship at a textile business in Nairobi but had to stop after the outbreak of coronavirus and the business closed. Her brother, who is the breadwinner of the family, also lost his job and they had no other source of income to cover their basic needs, especially food and rent. The family was in dire need of support as Annet's aunt is expecting her second baby. Annet approached the Seed of Hope manager with the challenges they were facing and Florence provided counselling for the family. She also added them in the list of vulnerable families as they had run out of food and money to pay rent and other utilities. The family has been receiving a cash transfer which has enabled them to pay their rent and buy food for the month. Annet says that she will forever be grateful for all the support she and her family have received from Raising Futures Kenya and supporters who have sacrificed to give to the less fortunate people like her.
Thank you for your generosity and kindness, particularly during this incredibly difficult time, we are all very grateful to you.
With best wishes,
Kirsty Erridge
Director