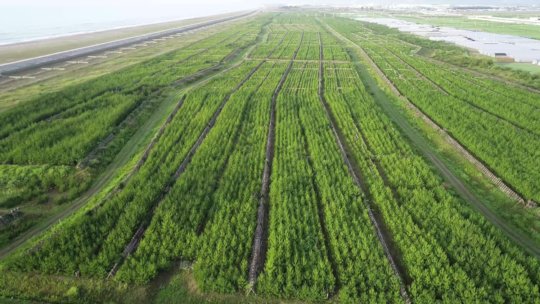 On behalf of OISCA International, I wish to extend my gratitude to GlobalGiving donors for their generous support to our project. Our project helped catalyzed the revitalization of the devastated communities as it involves the tsunami survivors in seedling production, tree planting, and forestry maintenance. We are the only organization entrusted by the Japanese government with more than 100-ha to reforest. Other organizations are maintaining an average of 0.5-ha.
It has been 10 years since we started our project and through the funds that we have raised, we have provided jobs to more than 8,448 tsunami survivors and forest workers; mobilized 11,379 volunteers; and educated 38,212 people through our report sessions, symposiums, and photo exhibitions.
In our nursery, we are raising a total of 30,000 black-pine seedlings and by October 2020, we will maintain a total of 361,748 seedlings planted over an area of 103.04 hectares. Prior to transplanting, we grow our seedlings at our nursery for 2 years. Well-acclimated and long been exposed to relatively the same environment, our seedlings can easily adopt to the site`s elements. For 7 consecutive years, we have 99% survival rate and this we attribute to the excellent condition of seedlings, use of polymer, and tapping of professional forest workers for the tree planting and site maintenance. At first, we faced problem related with the site`s poor water drainage but it is being solved by making canals with the help of volunteers.
Meanwhile, the Japanese government and forest experts are recognizing our seedlings for their ability to withstand the harshest weather conditions. Our site is exposed to Yamase (northeasterly cold wind blowing from May to August), Zao Oroshi (western dry and cold wind blowing from December to April), and typhoon season from September through November. These natural occurrences affect the survival of black-pines as they grow mainly in spring with an average of 50 cm.
Our efforts and commitment to have excellent results are now gradually paying off. The 5-km-long and almost 0.3-km-wide planting site (tallest black-pine is now 5 meters high) now serves as natural barrier from wind-blown sand, salt sprays, and strong winds within 1-km distance. This include the rebuilt 350 agricultural greenhouses and the infrastructures at Sendai Airport.
In line with the global fight against climate change, the growing black-pines now contribute to offsetting carbon dioxide emissions and sequestering about 213.84 tons of carbon dioxide/year. According to the experts, 1 person emits 0.320 tons of carbon dioxide/year and 1 car emits 2.3tons/year. With this, our site can now absorb carbon dioxide emissions of 668 person and/or emissions of 93 cars. After 15 years, based on our calculations, our site can possibly absorb more than 900 tons of carbon dioxide emissions.
Moreover, as the vegetation cover increases, our project is helping in the restoration of biodiversity. According to the survey result of Miyagi Forest Management, a number of known to be endangered species of plants were observed and different species of animals such as snakes, foxes, raccoons, rats, eagles (6 species), hawks, and dragonflies are now commonly observed in our site.
Our project is now gaining support and recognition within and outside Japan. It is one of the recipients of the "First Infrastructure Maintenance Grand Award" from the Japanese government.