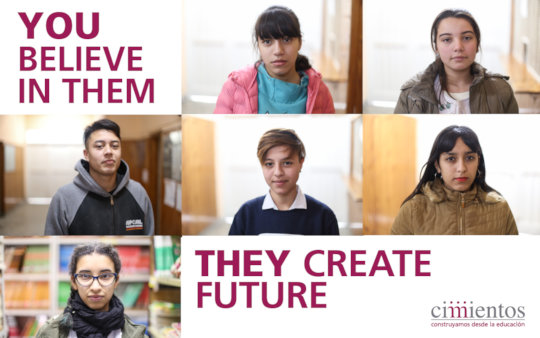 Dear friends,
We have wonderful news to share with you! Next Tuesday November 27th, Globalgiving is holding their #GivingTuesday campaign and will be releasing $150,000 in matching funds and 30 bonus prizes (ranging from $3,000 to $100) over a 24-hour period that day. If you want to make a good deed after Thanksgiving and before the next celebrations, please donate to our project on Tuesday so that we can enlarge our funds and help more Argentine Youth escape poverty!
As we all recover from our Thanksgiving food comas and prepare for the next celebrations, my hope is that we still keep why we're thankful in the forefront of our minds. Many of us are blessed with loving families, thoughtful friends and bountiful food over these holidays, and for that we are all incredibly lucky. For that, I for one am incredibly grateful.
Others, like Cimientos' students, don't have the same support system that we do, and need a little more help than the rest of us to just get by. The personalized mentoring Cimientos´ Graduates Network provides gives students that added push they need in the right direction, helping them reach for their dreams and gain the confidence and vital tools they need to succeed both personally and professionally.
This year is almost coming to an end and in Cimientos we have plenty of things to give thanks for... As we share with you on our last report, next December 442 low- income youth from 15 provinces are finishing high school thanks to Cimientos scholarships and mentorings!
December is also a special month because all over the world people celebrate Christmas and New Year and like to give special presents to their beloved ones. If you give a gift card of our project as a present or make a donation between Wednesday, Nov. 28, 2018 and Monday, Dec. 31, 2018, Globalgiving could also donate extra money! Together, we can help the students who need us most with vital job and training opportunities, and give them a great reason to be thankful this holiday´ seasons.
Together, we can help the students change their life in an incredibly meaningful way, for the better.
Best regards,