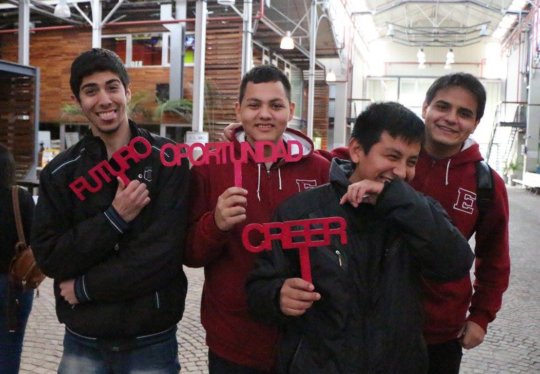 Dear friends,
Last July 19th 72 low income youth participated in a Graduates Network meeting held in Buenos Aires. It was winter holidays and we always take advantage of the free time they have during 2 weeks to offer them meaningful and fun activities. It was the first time we were able to screen live a meeting through our youtube channel so other youth from the rest of Argentina could also participate.
In the morning, they participated in 4 different vocational guidance and communication workshops coordinated by 3 universities and a Human Resources specialist where they reflected on how to choose what to study after finishing high school and learned tools to improve their communication skills for future jobs or studies.
After lunch, we organized a raffle where they won movies, theatre and football matches tickets, free dinners at fast food restaurants, sports bags and cosmetic products donated by different firms. All of the winners were really thrilled and grateful.
In the afternoon, we invited 30 proffesionals from different careers and firms and 13 different universities, NGO´s and gubernamental scholarships programmes. The youth spent the whole afternoon talking with them and listening to their experience to know different career and scholarships options.
We want to organize at least 5 more of these meetings in other provinces of Argentina for other children but in order to be able to do this, we need to raise more funds. GlobalGiving is holding their first ever International Youth Week Campaign, starting at 9:00AM EDT on August 7th until Saturday, August 12th at midnight EDT!
- Matching funds will be available starting at 9:00AM EDT on the 7th! One-time donations will be matched at 100% until funds run out (hurry to make a donation! ;) )
- Recurring donations will be matched 100% up to $250 throughout all Youth Week!
If you want to help Argentine low income youth have more opportunities to finish high school, be able to studie a career and or find a job to escape poverty, this the time to support us! Together we can change more than 1800 lives :)
Best regards and thanks for everything,
María