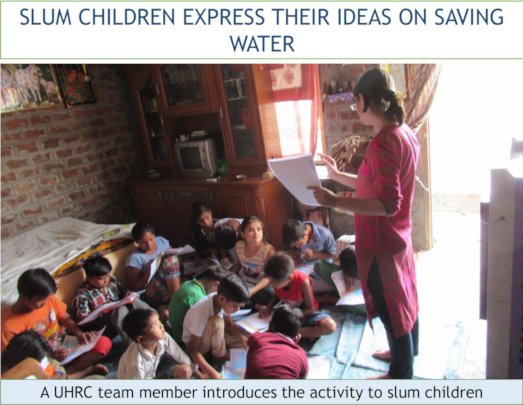 As per the recent report of World Resource Institute (WRI), an international think tank, India has been alarmingly ranked 13th on water stress index. With increasing urbanization and population growth, urban cities put tumultuous pressure on resources. Water, as we know it is the most precious resource and is increasingly facing crisis. This crisis calls for assiduous steps to be taken immediately in the interest of our future generations
UHRC stimulates children from slums to think and promote simple steps in conserving water. Children are motivated to express their ideas five points of action which can be put in practice on saving water. They discuss their points of action among themselves. Activities like these sensitise young minds to the burgeoning crisis of water and promote simple steps which can be implemented with this effort towards behaviour change.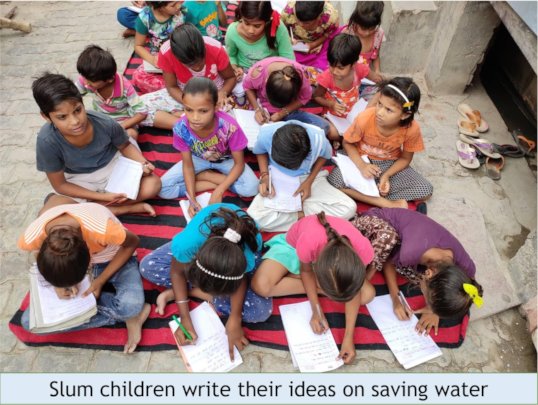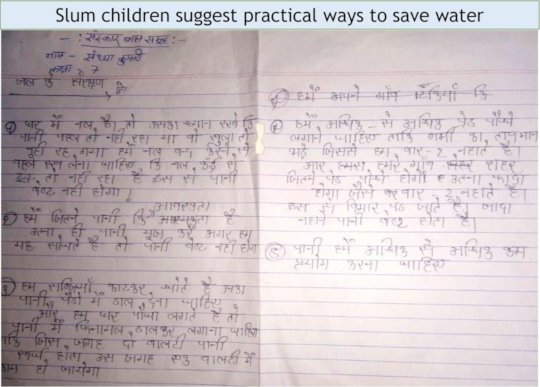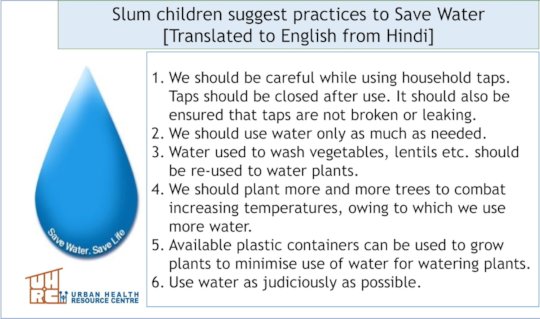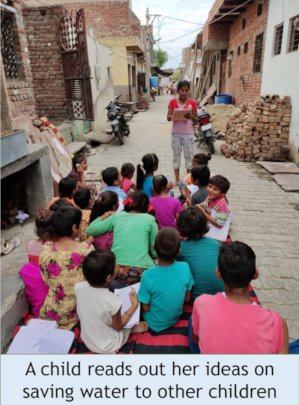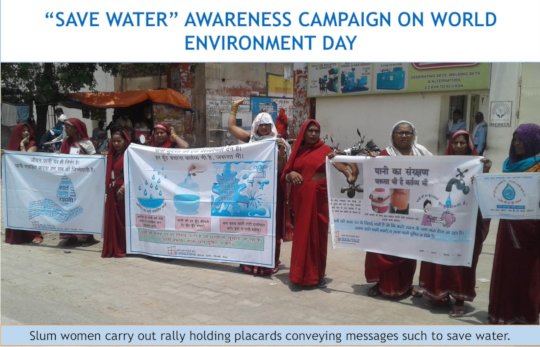 India is on a brink of water crisis. Government of India's policy think tank, NITI Ayog's 2018 report states that nearly 600 million Indians faced high to extreme water stress during 2017. For a very large proportion of underprivileged population, getting adequate water for fulfilling basic needs is a daily struggle.
On World Environment Day 2019, basti (slum) women, youth and children of Agra and Indore carried out an awareness campaign to encourage people to conserve water. Messages conveying practical ways of saving water were disseminated through pictorial placards and banners. Some of the messages were:
Life is dependent on water, it is the collective responsibility of all to use it judiciously
Save every drop by closing the flowing tap after use. A flowing tap can waste up to 90 litres of water in a week;
Do not let water to flow when not needed. Open the tap as less as needed to save water.
The campaign saw active participation from UHRC mentored women's groups and adolescent girls from bastis who often in a male dominated society do not step out from their homes. Basti children lent their energy by chanting slogans on the importance of saving water.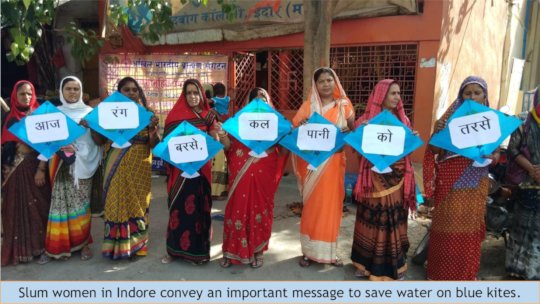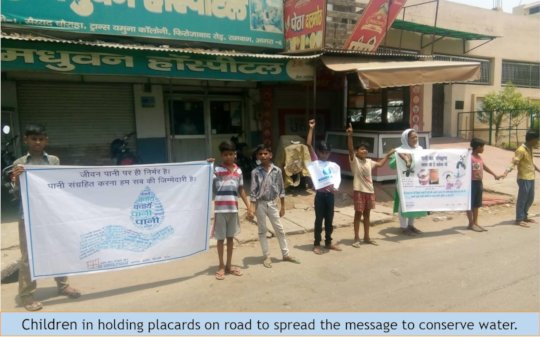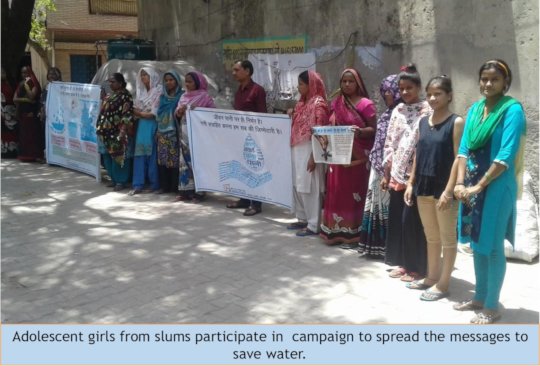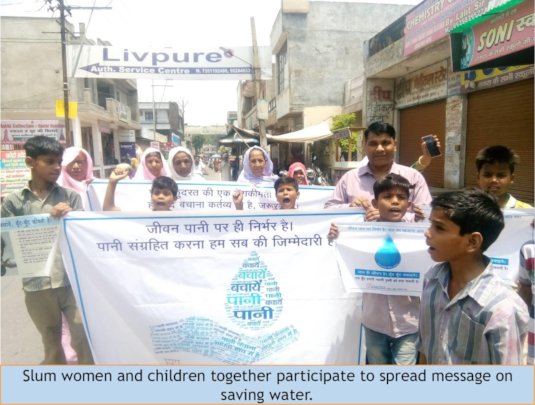 Links: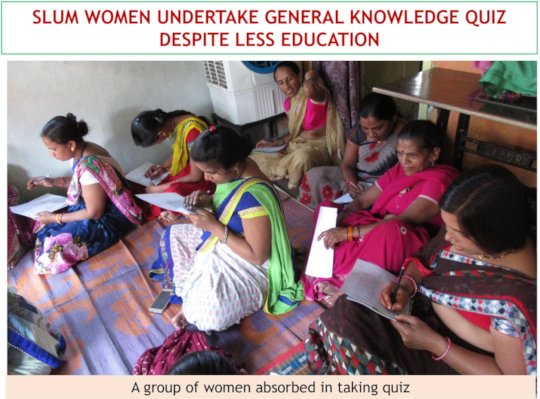 In India's male dominated society, women are considered to be inferior and less knowledgeable to men. UHRC undertakes stimulating activities with women and children in bastis (slums) on a regular basis.
General knowledge quiz sessions covering questions on Indian politics, geography, government welfare schemes, health (e.g. infection prevention) and nutrition were conducted with basti (slum) women. Questions on these themes were given to women printed on a sheet of paper along with four possible answers in which they had to select one.
Despite being less educated, women in Urban Health Resource Centre's program areas demonstrate a keen instinct to learn more and participated enthusiastically. School going youth and children lent their energy by helping women who could not read, understand questions.
Children of the bastis encouraged their mothers to participate in quiz owing to their own interest being kindled through participation in these invigorating activities. Activities like these bolster the women's confidence and knowledge as they usually observe their children participating in these activities.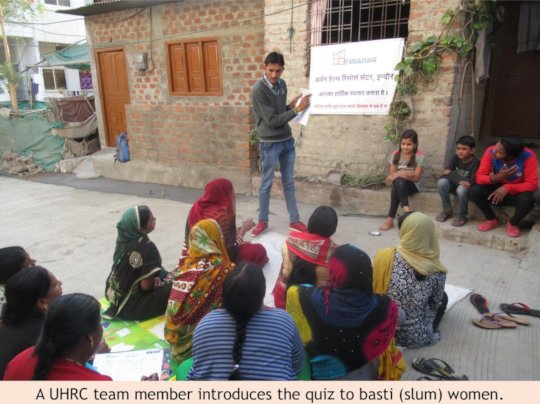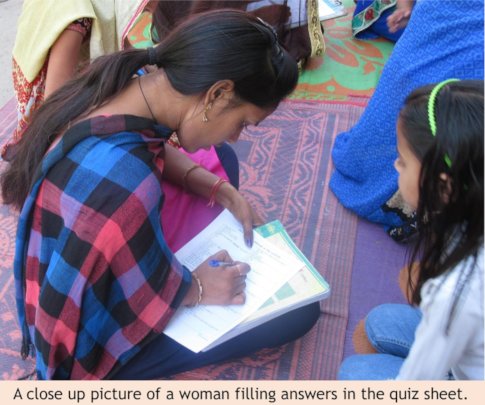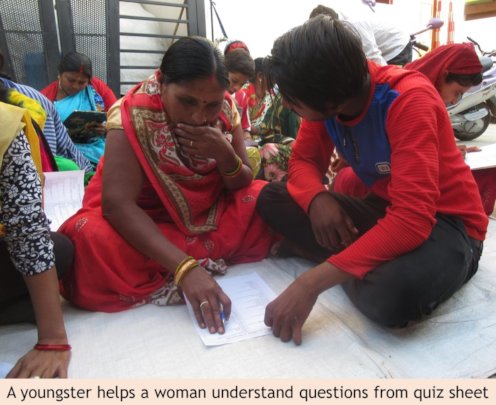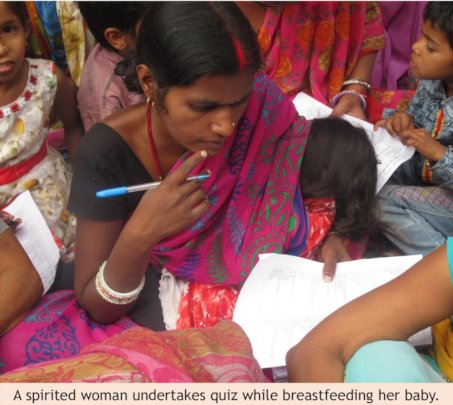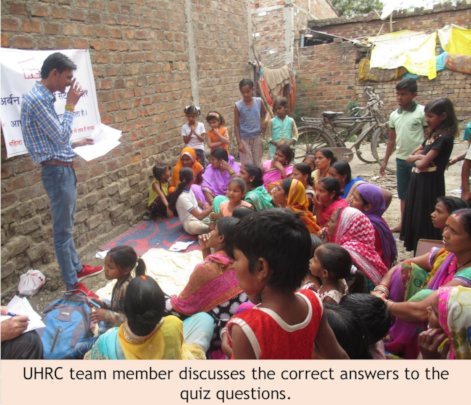 WARNING: Javascript is currently disabled or is not available in your browser. GlobalGiving makes extensive use of Javascript and will not function properly with Javascript disabled.
Please enable Javascript
and refresh this page.