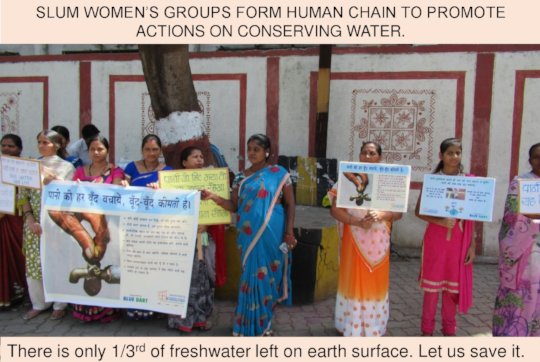 80 countries now have water shortages with more than 2.8 billion people living in areas of high water stress also expected to rise. The situation is worse off in Indian cities where water is distributed unequally.
UHRC mentored women's groups formed a human chain in Indore city to spread awareness on conserving water among city dwellers. In this Human Chain, slum women and children's group members spread awareness holding placards bearing messages such as, "Saving water is not only our need, but also our duty", "Water is our tomorrow, there is only 1/3rd water on earth's crust which is decreasing", "Save every drop of water which is precious" .
Some simple steps to conserve water –
When you notice a leaking tap, please close it or get it repaired. A running tap can cause loss of 90 litres of water per week.
Use low flow water taps or turn them to low-flow to save water.
Do not let water to flow when not needed. Open the tap as less as needed to save water.
Preserve rain water and contribute to water conservation.
Do not release sewage in fresh water (rivers, lakes, ponds).
Motivate industries, factories to not let effluent (to check) flow into water bodies
Reuse kitchen waste water by watering plants after washing vegetables in the kitchen
In slums, women and children's groups are slowly learning to adopt these positive practices in their daily chores. Women's groups also signed a pledge to save water and encourage others to do the same.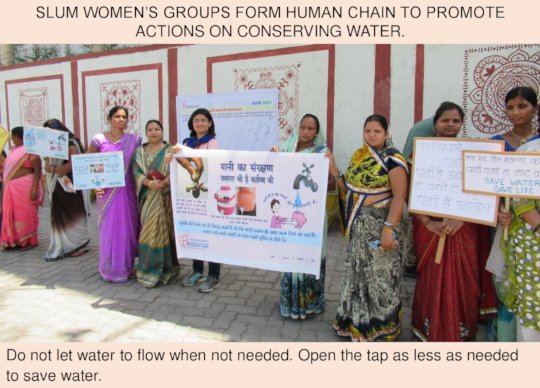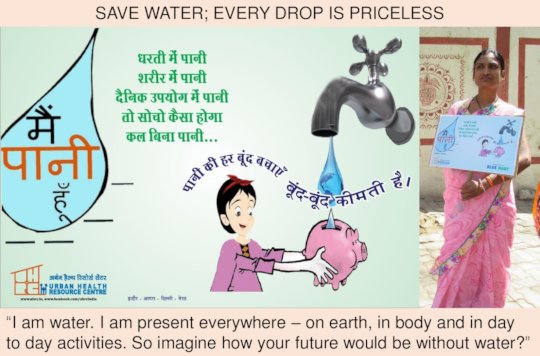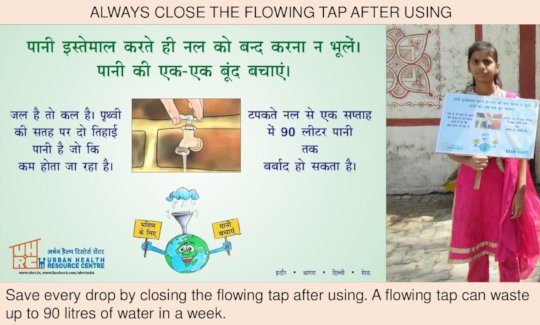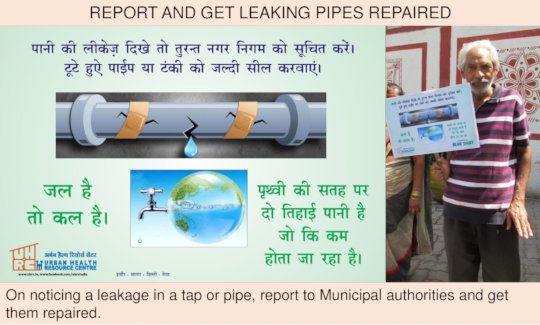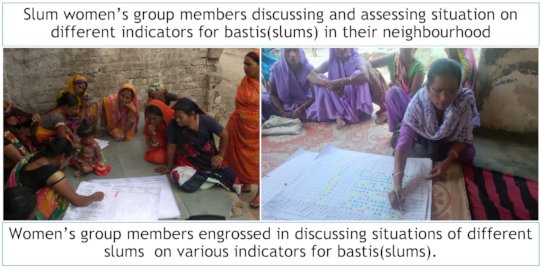 Slum women's group members, living and experiencing their living conditions and environment 24x7, 365 days in a year, understand all aspects of their circumstances. Trusting their wisdom, ability to analyse what they observe and experience, through discussions, a simple, low-cost replicable, scalable qualitative slum-level environmental assessment methodology evolved.
The power of the methodology lies in its being simple, understandable easily by less educated, illiterate slum-dwellers, academics, policy makers/implementers and directly propelling action by making risks/challenges emerge as visibly affecting the entire community. Subsequently, slums women's groups with support of UHRC's social facilitators develop and implement context-responsive action-plans to "pull" government services to slums.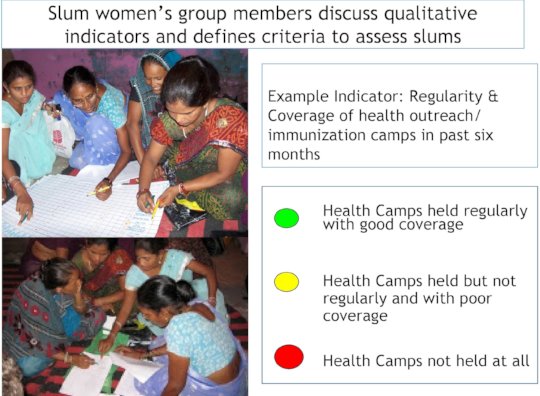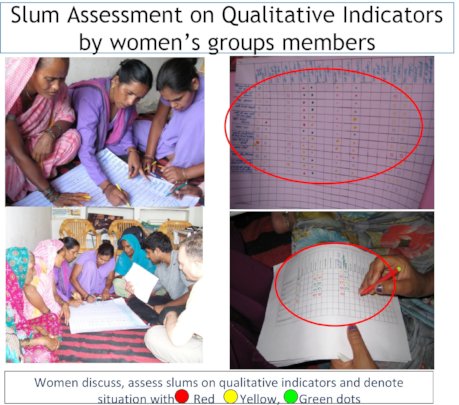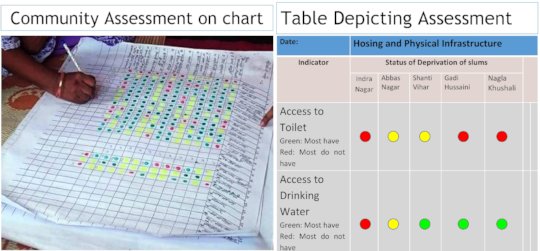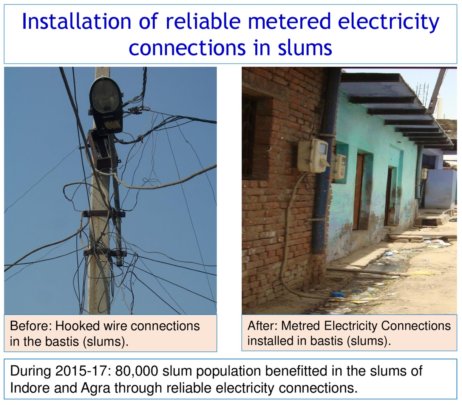 1) Challenge: In most of the urban slums areas, the one common problem is lack of metered electricity supply. In the absence of metered connections, slum households hook wires on to electric poles nearby. This is fraught with risk of electrocution if the live wire touches a person. Further this is an unreliable source of electricity which particularly hampers studies of school going children, women's housework and small livelihood activities after dusk.
2) Effort: Women group write petitions for the electricity connection, send reminders for slums where electricity connection is not installed. In slums where electricity supply system has been installed, UHRC's social facilitators encourage slum families to understand the benefits of a dependable electricity supply. Families gradually realise the benefits observing early adopter families and avail the formal electricity connection which is safer (minimal risk of electrocution) and provides regular lighting and fan which helps children study and women carry out stitching and other activities.
3) Impact: Through petitions and in-person requests to Electricity Department in 2015-17, metered electricity connections reached approximately 80,000 slum population of Indore and Agra. These also include families living on rent availing electricity supply from the house owner's main connection. Along with petitions and reminders, motivation by UHRC and other women group members, benefits of reliable electricity supply have gradually prompted more families to avail formal electricity connections which they were initially unaware of.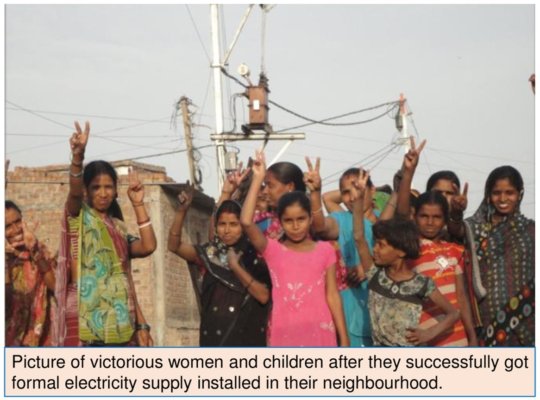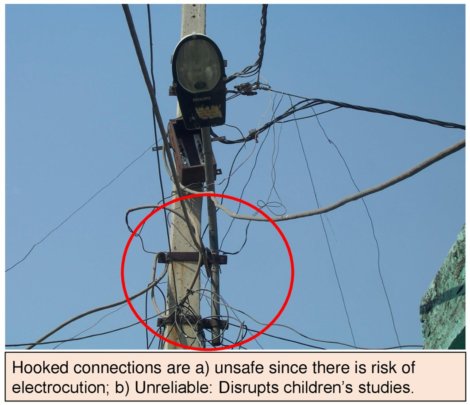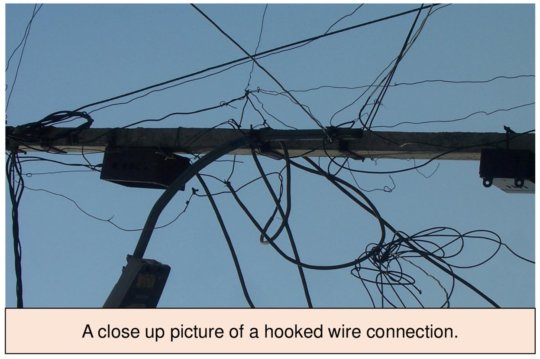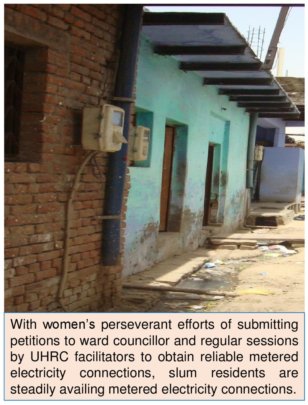 Links:
WARNING: Javascript is currently disabled or is not available in your browser. GlobalGiving makes extensive use of Javascript and will not function properly with Javascript disabled.
Please enable Javascript
and refresh this page.