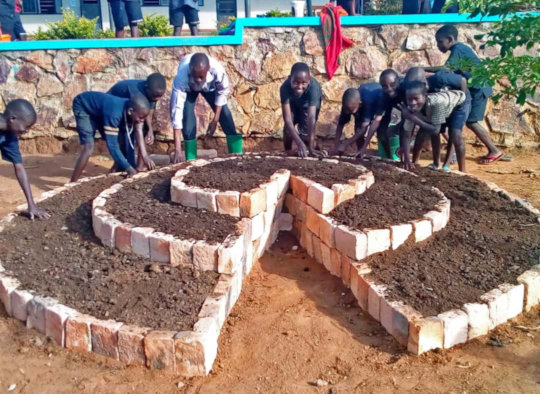 Hi folks,
I truly hope this reaches you safe and well. With so many changes to our daily lives, it can be easy to feel overwhelmed just by paying attention to what's happening closest to us. During these times, it can help to remember that we're part of a larger, collective effort to support and bring out the best in each other. Today, we're sharing a project story from Uganda — a project that your support has made possible. We hope it will encourage and inspire you, as it did us.
This past September, the MDRT Foundation hosted a seed packing event at their annual meeting in Australia. Their members filled over 20,000 seed packets with SPI seeds and shared those packets with new partner organizations who carried the seed throughout the world. Quaker Service Australia is one of those new partners.
About Quaker Service Australia
Quaker Service Australia (QSA) is an aid organization of the Religious Society of Friends (Quakers). They work in countries throughout the world, including: Cambodia, India, Indigenous Australia, Malaysia, Uganda, Zimbabwe, and refugee and asylum seeking groups in Australia. QSA projects focus on health, education, and human rights with a primary focus on food security. The training and education offered through QSA partner projects help ensure that people can grow food now and for generations to come.
Like many organizations, QSA has had to adapt to workplace changes because of COVID-19:
"At QSA we are all working from home as much as possible and staying in touch remotely – we are some of the lucky ones I think, that it is possible with our work. We are keeping up with communications and support to our partners as they are working to devise ways to continue support or work with their communities through their own countries' lockdowns as well as helping to disseminate health and safety info in the course of their work. While we have some alternative plans with partners in response to COVID-19 these have not quite been able to go ahead as of yet. In most of our project locations it is currently unsafe for them to leave the house not just because of COVID-19, but also because of authorities using means of coercion to enforce the lockdowns."
Building a Foundation: QSA & St. Jude Family Projects
This past February and March, QSA distributed about 1,500 packets of SPI seed with their partner St. Jude Family Projects in Uganda. St. Jude offers education for the whole community, working with farmers, students, and families. Prior to Uganda's mandated COVID distancing measures, St. Jude offered training in agroforestry, vegetable growing, preparation, value addition and marketing, seasonal crop spacing, and manure application. Droughts and floods over the past year had wiped out several prior crops, so this recent seed distribution was especially important.
Seed was also shared with three schools that maintain gardens as a classroom for students and teachers. These gardens are important training grounds (no pun intended) that also provide nutritious vegetables for school lunches. St. Jude carefully cultivates these programs, building their curriculum from the ground up:
"We select the most disadvantaged schools from many applications, do a needs assessment, pick up the numbers that we can afford each year to work with, and start working towards a collective vision with those involved.
Meetings begin with school management committees, teachers, parents, and the students themselves to introduce the program. We visit these schools every few weeks to train and monitor their developments and provide advice with proper guidance. For sustainability reasons, it is important to educate the children on nutrition and harvesting. It is amazing to see how the children take these lessons to their respective homes as 'mini-ambassadors.' This creates a culture of ownership, and ensures these great lessons of caring for the earth live on. Agriculture is a fruitful venture, not a living to shy away from."
What a fantastic model for ensuring that everyone involved has the opportunity to shape the program! Ai Leen at QSA adds, "...St Jude Family Projects' excellent and dedicated community-based trainers [planted] a trial run of SPI seeds during my visit, so they could test and observe germination prior to distributing to farmers, which also allowed them to know how to advise them." This is clearly an experienced team who cares about their students, community, and craft.
This report includes photos from St. Jude of the most recently completed primary school project (students planting) and the currently ongoing project (tiered garden). Ai Leen and St. Jude are waiting to see what this season will bring. Nothing is certain, but we believe that the quality of care and resources that QSA and St. Jude are providing has established a critical foundation of support for local farmers and students.
Your support of this project supports local collaborations like Quaker Service Australia and St. Jude Family Projects. The work they're doing with local schools is growing local leaders who will support their communities for generations to come. Thank you!
— The SPI Team