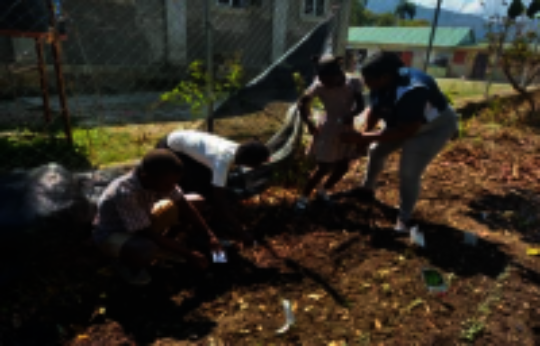 Hi there folks,
We are excited to share the latest successes from Saint-Juste François and students like him at Feed the Children Haiti. Without supporters like YOU, the school garden projects would not be possible. SPI, Feed the Children Haiti, and students like Saint-Juste François, thank YOU!
Throughout the year, the school children worked in the garden, learning more and more about how to grow vegetables, care for them, and the best techniques and methods for cultivating a garden. Although there was trouble with sprouting the seeds at first, the teachers and children worked together to cultivate the garden soil. With that minor adjustment, the garden began to blossom and grow plenty of fresh vegetables.
The main goals of the school gardens were to teach children about the importance of agriculture and provide them with the skills to grow vegetables, both in the school garden and at home. In this way, the students' knowledge supports the community's nutritional needs. The participating schools, Coatalem de Dufresney, Ecole Mixte Freres Petits, and the St-Rock community, used the vegetables from the school gardens in their school meals, providing a better nutritional balance for growing children-- something incredibly important in these low-income areas.
One student, Saint-Juste François, provided a testimonial, saying that, "It has been one of my best experiences… Considering the economic situation of our country it was a great help for us." He continues, "The inhabitants of the area are happy to know the crops that can be grown in the area. Some have already known about the garden in schools. They participate in weeding and
Transplanting workshops. They understood the importance of agriculture for the economy. There are many who ask for information regarding the creation of a garden."
By supporting the School Garden Project, YOU are providing hands-on experience for students to learn about growing vegetables and agriculture. They can then use this to assist in their communities. Already, many of them have taken what they learned and taught their friends and family about growing their own vegetables. With these efforts, the nutrition of the local community has improved. The goal is for local community members to continue growing vegetables for years to come. An enriching experience like this can have a monumental impact on people, and it's SPI's hope that these seeds and the school garden project as a whole will continue to help the community, and provide a learning experience for all involved.
From our partners at Feed the Children, thank YOU for your support!
— Feed the children & the SPI Team