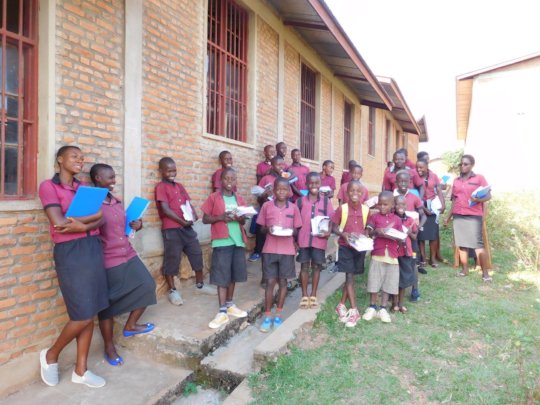 A YEAR IS LIKE A HUGE FOREST!!
The year 2018 will be over soon, and start the New Year 2019. I wish you Peace and Blessings over the year 2019 and success in your work and business.
Please know that a year is like a huge forest and when you enter in a forest you do not know how you will get out of it and what you are going to meet over there. In whatever situation you may have gone through, during the year 2018, thus 365 days, Do not be discouraged if things did not go as you had planed, because what is not possible today, will be possible tomorrow. But remember, Big Vision requires Big Dream, Big Dream requires Big Actions and Big Actions require Big Commitment; knowing that there is wonderful joy ahead. Commitment requires courage and patience; Patience and courage never fail and are determined by the End".
While you celebrate Christmas and New Year seasons, think about underprivileged children; your Christmas gift will show these children that there are people who care for them and make them SMILE again. Your donation will help them feel that they are not completely forgotten. It will enable Iwacu Kazoza School to continue to provide education to 510 underprivileged children, purchase teacher and student's books, and desks and pay teacher's salaries. Your donation will make a huge difference in the lives of hundreds underprivileged children.
Because of your donation, Iwacu Kazazo School continues to provide education to over 500 underprivileged children, schooling in our school.
The year 2018 was very hard for our school as we did not raise enough funds to provide school materials to our students, pay teacher's salaries, purchase teacher and student's books and desks. The project to bring water to Iwacu Kazoza School and the Orphanage was not completed due to the lack of funds. We continue to share this need with our partners and friends, and friends of friends: https://web.facebook.com/238561311217/photos/a.10150191650251218/10155251382051218/?type=3&theater
As you can also see from the attached pictures, the school does not have enough laptops, that's why you see five students sharing one computer. This need has to be met to allow Iwacu Kazoza School continue to provide good education to the underprivileged children.
We give thanks to our donors and GlobalGiving for making possible the education of these children, who could not have access to education without your financial help and prayers.
Prosper Ndabishuriye General Coordinator and Founder/JRMD