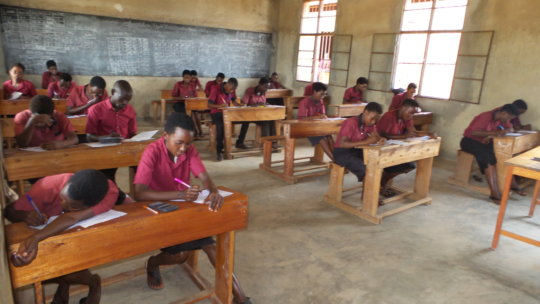 BECAUSE OF YOU AND YOUR DONATION IWACU KAZOZA SCHOOL IS COUNTED AMONG THE BEST SCHOOL IN BURUNDI
All the 33 tenth grade students of Iwacu Kazoza School of the school year 2015-2016 performed very well at National Exams. All of them passed and none of them failed. Today, Iwacu Kazoza School is among the BEST schools in Burundi; it is among 15 best schools at national level providing a good education. This is witnessed by the results from national exams of 2014-2015 and 2015-2016. You and your donation are playing a major role to make this to happen to the students schooling at Iwacu Kazoza School.
To help Iwacu Kazoza School continuing provide a good education to the underprivileged students schooling at the above mentioned school, we need your financial support. During the school year 2016-2017, our total school yearly budget is $68,635. This budget will enable us to pay teachers' salaries, buy student and teacher's books, school supplies and purchase new benches. It will enable us to provide education to 600 underprivileged students during the school year 2016-2017.
The school year 2016-2017 will start from September 5, 2016. To help and enable us cover the above mentioned budget, you can now make your donation by clicking on the following link:https://www.globalgiving.org/projects/providing-education-to-450-youths-in-ruhagarika/
Because of you, this year was a great success for the school and our students. In total, the school provided education to 503 primary and secondary students.
Let us together continue to help them become self-sufficient one day so that they can help themselves, help their community and country. They are leaders, parents and business people of tomorrow.
Thank you so much for teaming with us in this project of providing education to the underprivileged children.
Prosper Ndabishuriye
General Coordinator and Founder