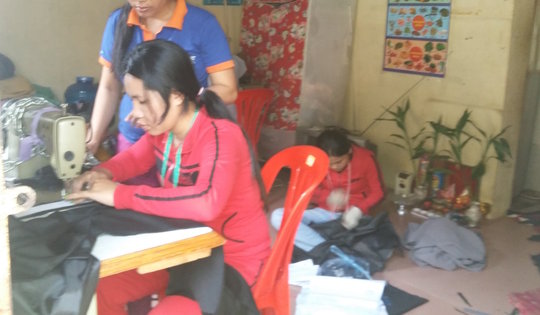 The following story highlights the power of Lotus Outreach's Non-Formal Education (NFE) program to alter a Cambodian women's life. NFE offers incredible educational and vocational services to young girls and women stuck in sex work and harsh labor, in order to give them the support necessary to make profound and impactful changes in their lives and their family's lives.
Sophea, 31 years old, was born in Roluos Village of Kompong Trobaek District in Prey Veng Province. She is the second of seven siblings. Her father died of cirrhosis when she was 13 years old, so she had to dropout of the 5th grade to move to Phnom Penh to help her aunt with household chores, which included raising pigs and selling groceries in exchange for smalls amounts of money.
After working 4 years with her aunt, Sophea left to work in a garment factory with a basic salary of $35 a month. Five years later she got married to a motor taxi driver and now has one child. Her husband and her have had many difficulties throughout their marriage and have separated twice. He is a gambler, drunk and has had various affairs on Sohpea. He also never is able to give her any money, and thus, having a husband has done nothing to lighten the load. She only decided to take him back, because she didn't want her child to experience a life without a father like she did.
In 2009, Sophea quit the garment factory due to bad health condition. She then found another job as a cashier in a beer garden; however, two years later the beer garden was closed. She again found herself a job in another beer garden as a waitress, but it was again closed two years later. She kept changing her workplace a few times and eventually found stable work as a hostess at a beer garden near an NFE class in Sen Sok District. She then found out about Lotus Outreach's NFE program.
She decided to enroll in an NFE class, because she wanted to learn tailoring skills, so that she could change her career for a better life. She is facing a lot of challenges working as a hostess at the beer garden like being forced to drink a lot, which results in many stomachaches and frequent dizziness. She is also afraid that she will get cirrhosis like her father, a disease caused by poor liver. Not to mention she is often approached and harassed for sexual services.
Sophea started NFE English classes and a tailing class on January 14, 2015. She studies very hard and comes to both classes regularly. When she first joined the program, she could read some simple text, but could hardly write. She didn't know how to do multiplication nor division. Since she used to work in the garment factory, she is picking up tailoring very quickly. She has already made 10 women's garments and 2 male trousers. She also really likes reading. She has borrowed a life-planning book, a health related book and a magazine from the library box to read.
Sophea plans to buy a sewing machine by the end of this month, so she can start doing her own work at home. Once she finishes the skill training with the program, she would like to run a tailoring business in Phnom Penh with her sisters who are now working in a garment factory.
Sophea is extremely delighted for the opportunity to acquire literacy, numerical and vocational skills. She would like to show her gratitude to the programs and all the donors for reaching out to her and other Cambodian women and girls who need support to make the many dire and much desired changes in their own lives.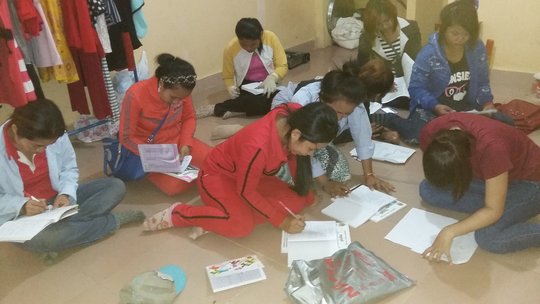 Links: