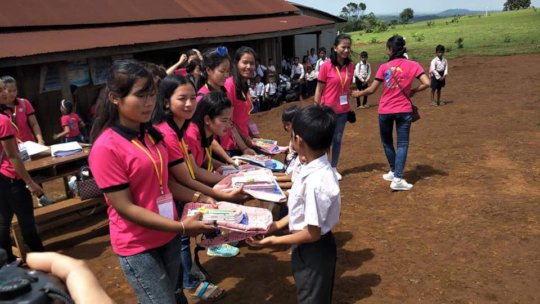 This year CATALYST Program took its scholars on a study visit to Mondulkiri Province on May 12-14. Mondulkiri is 390kms from Phnom Penh Capital City and is well known for its forested hills and powerful waterfalls. Eighty percent of Mondulkiri's population is made up of ten tribal minorities, with the majority of them being Pnong.
The study visit this year was different from the previous years because our CATALYST scholars came up with an initiative to "pay it forward" by providing study materials to Pnong students at Pula Primary School in Oraing Commune, Mondolkiri Province as they believe that education is the key to break the cycle of poverty.
Pula Primary School was a community school and has just been recognized as a public school in the past few years. However, the school has not been developed and there are not enough rooms for every grade that two grades are merged into one and there are only 46 students in the whole school from grade 1 to grade 6.
To be able to provide study materials to all the 46 primary school student, the CATALYST scholars began raising funds in March. By the end of April, they had raised $512 -- enough to provide each primary school student with a school bag, a raincoat, 5 notebooks, some pens and pencils, a pencil sharpener, an eraser, and a ruler!
Actually, CATALYST program didn't have enough budget to take all the 44 scholars to Mondulkiri, but all the scholars were willing to contribute their money to the program so we could pursue our first charity mission. Altogether their contribution came to $558.50, a significant amount to make it happen!
The school is very remote in the middle of nowhere on a hilly road some 10kms off the main street. We were worried as it was very cloudy that day and if it rained, our 45 seaters bus wouldn't make it to the school. Fortunately, it didn't rain.
When our bus was approaching the school, we could see many children waiting in the school compound and they were smiling in excitement. The school is located in an open space with no fence surrounding and there is only one building with 4 classrooms made of tin roof and old wooden walls. The small children in grade one and two cannot understand simple Cambodian/Khmer (they talked to each other in their ethnic language). No wonder they looked puzzled when we were trying to explain what they should do after primary school regardless of the long distance to lower secondary school (10km) on a hilly road, and all the opportunities out there when they have high education.
After a short talk to break the ice, the CATALYST scholars took turn to give study materials to all the students. Five scarfs with Lotus Outreach Cambodia's logo were also given to the school principal as souvenir for him and his four other teachers.
This Pay It Forward mission was accomplished with high satisfaction, leaving a lot of good memories, positivity and pride with our scholars. Below are some reflections.
"Seeing their happy faces, I felt very humble as it reminded me of my childhood. I remembered having to stand in the school yard, in the warm morning sun, waiting to receive books and pens from high ranking government official, and now I found myself on the other end of the spectrum giving back to those in need," said Vorn.
Soy reflected, "I used to feel that I am the most unfortunate one not having enough to support my education. Only when I arrived at the school, I then realized those youngsters have even less than I do. I feel pity for them and I hope they get to finish school to be free from ignorance."
Srey added, "I am inspired to study hard so I can make good money to help build human resource for our country by helping to educate children in need like them."
Links: