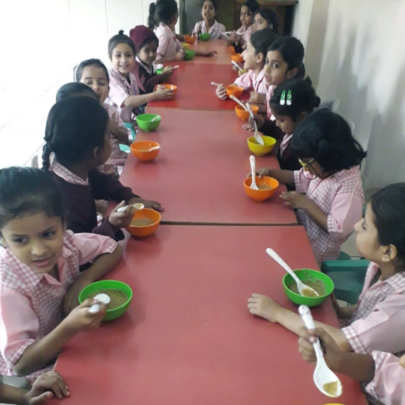 Brrrrring! The morning school bell rings and with the usual chatter, fidgets, and giggles, primary and pre-primarily students take their seats around a breakfast table. The school chef brings around a tray and uncovers it with a flourish.
And just like that, an ordinary school Monday morning is transformed into Paratha Day-everyone's favourite day.
However, these are no ordinary parathas. Parathas are flatbreads which traditionally contain layers of cooked white dough and copious amounts of oil. The ones polished off instantly by these 3 to 7-year-olds are a healthy, nutritionally-dense version, which also includes spinach. Fun fact, the spinach is grown in the school's vegetable garden by student-led Environment Club where students learn how to grow certain, vegetables, protect them from pests, understand and appreciate food production and also compost kitchen waste.
What's for breakfast?
During the last quarter of this academic year, Khatoon e Pakistan Government Girls School (KPS) served spinach parathas, boiled eggs, khichri (rice pilaf), banana and date shakes, fresh fruits and porridge. The school staff has really striven to serve a different item every day to pique students' interest and to cater to every palate. As Maa Bibi, the KPS chef, says "Yeh bhi humarey bachey hai" (these too are our children), and this is what motivates the breakfast staff to innovate new recipes.
In serving breakfast, it's easy to forget how much sugar and processed ingredients are lurking in every bite, undermining the nutrition in the breakfast. KPS is working on eliminating sugar and processed ingredients, using ingredients such as dates to naturally sweeten foods. Flatbreads are kneaded and cooked in school rather than store-bought options.
SMB Fatima Jinnah Government Girls School (SMB) in this last quarter also focused on keeping up the healthy eating habits developed throughout the year in close partnership with the parents. Students have started enjoying milk, fruits, and porridge; items which were usually rejected by the students at the beginning of the year. "I like to eat fruits, especially oranges and bananas" saysAreeba (KG-I) with a sparkle in her eye. Also, Huriya's (KG-I) grandmother reports "My granddaughter was not fond of drinking milk before but after having it here every day, she has developed a likeness to it".
"My daughter asked me to make the same porridge as she gets in school and after tasting it she told me it wasn't as good as the one she has at school" Hafsa's (KG II) mother exclaims as she expresses her desire to get the magical porridge recipe from KG chef to satisfy her daughter developed taste.
Yasira's (KG-II) father revealed that his daughter loved the school breakfast menu especially the noodles, kabab, and spinach with yoghurt. She expects the same from her mother who has now learnt the recipes. In this way, the parent community has also been groomed hand-in-hand to initiate healthy menu at home.
Fan favourites at SMB include porridge, cutlets with mint chatni and omelette which students regularly ask to repeat.
About the Program
Zindagi Trust's Breakfast Program aims to provide students with a nutritious locally sourced meal to start the day. The program seeks to integrate and build awareness of health, nutrition and environment among our young students.
At KPS, breakfast was served this year to students of Kindergarten, first grade and second grade totaling 217 students. However, due to its larger student body, SMB was only able to serve breakfast to their 280 kindergarten students.
Our vision for the breakfast program is about inculcating healthy living habits in our students and we like to take this value beyond the breakfast room. We do not see the breakfast program in isolation from the rest of a students' intellectual development. As such, for long term impact, we have involved the school nurse, the gardeners, science teachers, canteen management and parents in the process of implementing the breakfast program.
The Breakfast program is has been tremendously successful. It has brought about a heartening improvement in the development and health of our young students. Teachers and staff report a decrease in absenteeism, fainting due to malnutrition, yawning during the class, and diminished concentration in studies and sports. Moreover, it has significantly boosted student admissions in the Early Childhood Development grades (ECD) at SMB.
What's next?
We plan to involve a nutritionist to understand the science behind nutrition better. What ratio of proteins-carbs-fibres should an ideal breakfast contain? The menu is in constant flux as we continue to innovate and experiment and work for serving breakfast to SMB students beyond Kindergarten grades.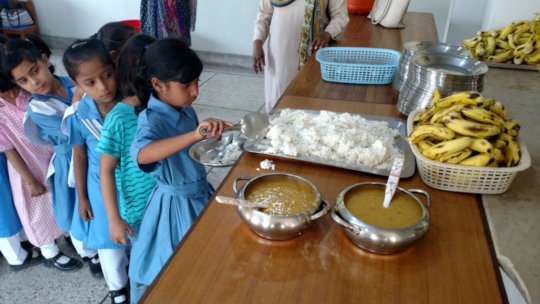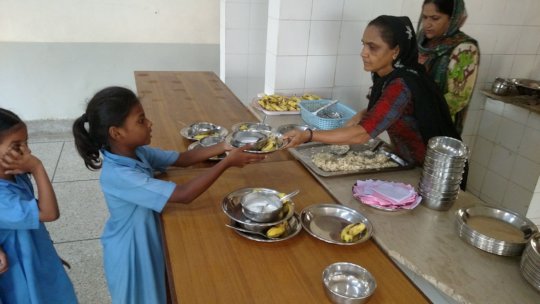 Links: