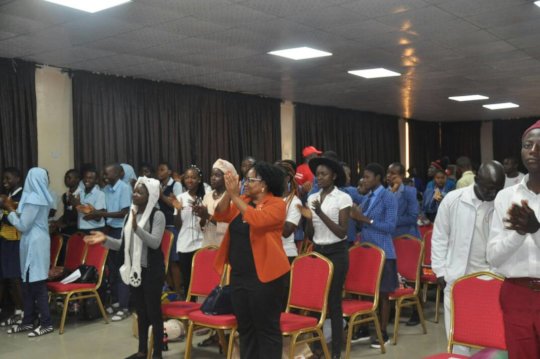 HIV prevention through mobile technology
"Can I get HIV if a person who is infected with HIV cuts himself or herself and puts the blood in food?"
"If mosquito bites a person who is infected with HIV and then bites me will I get HIV?"
"I am HIV positive and I don't know what to do…"
"If someone has HIV, how would they feel?"
Can I get HIV if I share clothes with an HIV infected person?
These are typical question concerning HIV received on the MyQuestion service platform.
New HIV infections among adolescents and young people are not declining as quickly as among other age groups. Although major advances have been made in almost every area towards the response to HIV related issues, progress for adolescents and young people is still falling behind. The interest of adolescents and young people in technology has peaked with the introduction of mobile phones, internet and social media. Many HIV interventions focusing on adolescents and young people are increasingly incorporating technology-based platforms to reach more and diverse youth populations.
However, in Nigeria, HIV prevalence among adolescents aged 15-19 is estimated to be 2.9%, and 3.2% among young people aged 20-24. Young women are the most affected by HIV with 3.7% of those aged 20-24 living with HIV, compared to 2.4% among their male counterparts.
Over the years, the MyQuestion service have received a lot of questions revolving around HIV/AIDS from adolescents and young people. It has continued to provide factual information on these issues.
This time, in commemoration of the 2017 World AIDS Day, the MyQuestion Service team carried out various activities in the last quarter through educative posts like HIV risk reduction tips on Facebook, facts about HIV/AIDS through bulk SMS, and interactive sessions with adolescents and young people. All of these activities were conducted to debunk myths surrounding HIV/AIDS to help reduce new infections among adolescents, and to provide information on HIV prevention. They were educated about where to get tested, and people who tested positive were linked to treatment sites. The aim of these activities were to encourage health-seeking behaviors among adolescents and young people.
Also, an adolescent and youth 'HANGOUT' enlightening them about their rights to HIV/AIDS prevention, treatment and sexual and reproductive health services was carried out. 152 adolescents and young people drawn from different schools and communities participated in the hangout. The event provided accurate information on HIV prevention and transmission. It also addressed questions and concerns that were raised by the young people. Young people expressed themselves and their talents through poem recitations, dances and a short play.
Following the various activities carried out around this period, we received a significantly increased number of questions around issues on HIV/AIDS from adolescents and young people. We had a 183.8% increase in the number of questions received around basic facts about HIV, its prevention, transmission, treatment etc. Specifically, there was a 160% increase in questions around basic facts about HIV, 289% about HIV transmission, 83% around HIV Prevention, and 227.3% on HIV testing services, when compared with the previous quarter.
Daily, we provide factual and confidential information to adolescents and young people through your charitable contributions. We are truly thankful for your donations.