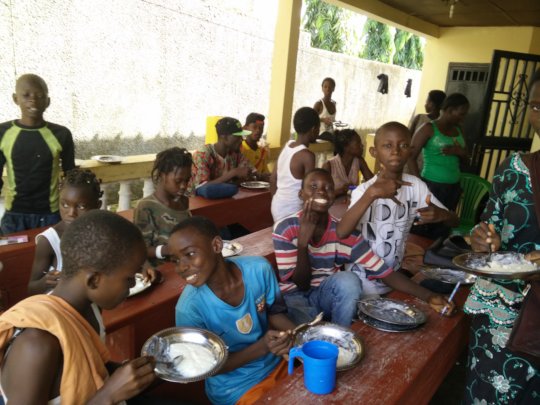 Thanks to your generosity, the MindLeaps program in Guinea is growing. 2019 began with over 75 children enrolled at our center in Conakry, well beyond our projection of 50 students. To meet the demands of expanded enrollment, we have increased the hours of our dance program, and of English classes as well.
The meal program at the MindLeaps center continues to be an important element in our kids' development, making up in part for lack of proper nutrition at home. Nearly 90% of the children who come for dance classes have had nothing to eat that day. The noon meals provided at the center include porridge with milk, rice dishes, and spaghetti. For many kids, lunch at MindLeaps is their main source of nutrition for the day.
Hygiene is another important element in the well-being of the children who come to the center. Many of their home environments do not allow for the personal hygiene necessary for good health. At MindLeaps, there are facilities for them to wash properly. In addition, all new students are given a kit containing soap, a toothbrush and toothpaste, a towel, and basic dance clothes. The kit is of course essential for good hygiene, but is also a psychologically important boost for kids who feel they never have had anything personal of their own.
As the population of children we serve expands, your support is vitally important in allowing us to maintain tanks of water in sufficient supply, stock food items for meals, and purchase personal hygiene products.
Making a change in the lives of vulnerable youth in Guinea also means going beyond the child alone and reaching out to the family as well. As part of the MindLeaps holistic approach, we believe it is crucial to involve parents and other family members in the child's experience. At the beginning of the year, MindLeaps staff held a meeting with parents of new students to explain the goals of the program and the importance of letting their kids come to classes on a regular basis. It was also a chance for parents to get to know staff and see the center for the first time. Staff discussed the importance of family support and encouragement, and emphasized the vital role parents play in assuring the success of their children.
The group meeting with parents was followed up by staff visits to individual homes so they could become familiar with the environment in which each child lives. Understanding a child's family and home life better enables MindLeaps staff to make ongoing decisions in the best interests of each child, ensuring that individual needs are met. Personal attention to each child is another key to developing the skills and confidence that will carry them forward in their lives.