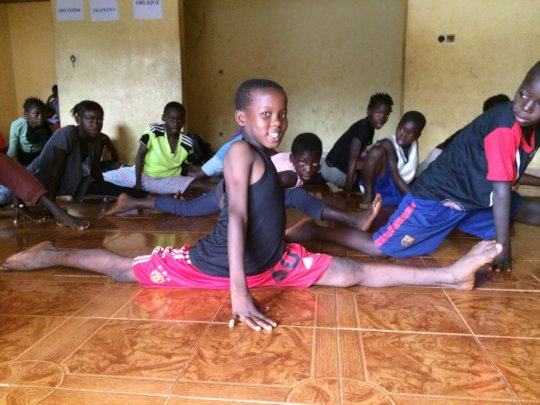 MindLeaps' dance curriculum works to develop the cognitive and social emotional skills that will help vulnerable youth in Guinea get back on track with their schooling. In addition to dance classes, academic catch up courses are a key part of the MindLeaps program. Academic acceleration classes prepare students for entry into the formal education system or vocational training. English classes are an important part of the program at the MindLeaps center.
The opportunity to learn is changing the lives of children in Conakry, and MindLeaps has given many of them their first opportunity to learn English. 8-year-old Souleymane had never attended school. He stayed home to do chores, fetched water for the family, and then went out with his older sister to sell bananas on the street. Since joining MindLeaps, Souleymane has been learning English and dance. In fact, his mother is now telling him not to go out selling so he can attend his classes at the center instead.
Before starting classes at MindLeaps, young Sayon had also never attended school. She stayed at home doing housework all day and only went out to go to the local market. At MindLeaps she learned the alphabet, how to count in English and French, and she is now reading in English. Sayon says she loves this chance to learn. Dancing has given her confidence and she now has a community of friends at MindLeaps.
M'mahawa is 10 years old and had dropped out of school after 1st grade. She is happy at MindLeaps because she is able to dance, and now can read and write in English. She says that if MindLeaps weren't there, she would be at home helping her mom and having a hard time trying to study on her own.
13-year-old Akime left school in the 3rd grade because his mother could no longer pay his school fees. At MindLeaps he has been able to start learning again – dance, drawing and English. Without MindLeaps, he says he would just be staying at home or playing in the streets.
The MindLeaps program in Guinea has been serving children 9 to 18 years old. Now for the first time, we are also reaching out to older youth from the community. In April, our center began offering a new program of free English courses aimed at youth age 18 to 30. Once word was out, there was an enthusiastic response from over 40 young people who signed up for the course. 32 students were enrolled, with another 10 interested youth on a waiting list. Courses were launched in May with two groups – a beginners' group of 16 students, and a second group of 16 who already had some basic familiarity with English. Each group meets two evenings a week for two hours a session. The year-long course is run and administered by MindLeaps in collaboration with the US Embassy in Guinea.
There is a keen interest among youth to learn English. Fluency in English is seen as a major asset in today's world, opening up opportunities to communicate on a wider scale and take full advantage of everything information technology has to offer. With your support we are able to create these new opportunities for vulnerable youth in Guinea. Education is enabling them to help move their families and community toward full recovery from the devastating after effects of the Ebola crisis.