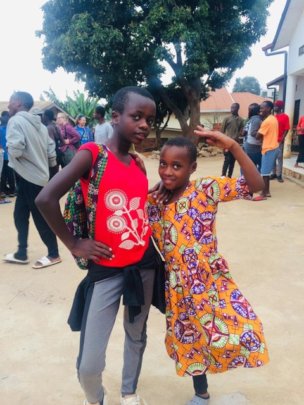 The end of the calendar year marks the end of the Rwandan school year. In 2019, MindLeaps was able to sponsor 168 Rwandan children in formal education, including 83 girls!
The opportunity to go to school is life changing for these girls. It gives them the chance to succeed in life, to become independent, and to feel confident and valuable. It also creates long-term positive impacts on their families and communities.
Let's meet two MindLeaps girls who both had an excellent year back in school:
Sumaya
Sumaya lives with her single mother in Nyamirambo, a poor community on the outskirts of Kigali. Before MindLeaps, she only ate when her mother was able to find temporary work. They faced extreme financial struggles, so much so that even hand washing their clothes was often too expensive. Then Sumaya found MindLeaps. Although her family still struggles financially, Sumaya has benefitted from the MindLeaps program immensely. It is exciting that she is able to attend school and to eat every day.
Sumaya recently completed Primary 5 (Fifth Grade) in December. She had a very successful year, earning A grades in French, Culture, and Sports. Even more amazingly, she ranked 2nd in her class of 60 students! That places her in the top 3% among her peers! Sumaya is also excelling outside of school. During a small end-of-year performance held at the MindLeaps Center, Sumaya had a featured role!
We are very proud of Sumaya's accomplishments this year. Her success in school allows her to continue to dream big. Some day, she hopes to become a Minister of Education in Rwanda to help ensure that all children are able to go to school in the future.
Aimee
Prior to joining MindLeaps, 12-year-old Aimee's home life was very difficult. Her older sister is the main provider of the household. She bought the house where Aimee and her mother live. Having only one main source of income means her family struggles to get by. The resulting emotional stress caused Aimee to struggle in school, despite the fact that she is naturally bright. When she joined MindLeaps, the Accelerated Learning Program at the Center helped her catch up with her classmates and achieve better grades. MindLeaps also gave her the opportunity to learn about sexual and reproductive health.
Aimee recently completed P5 (Fifth Grade) at a local school where she thrived. She finished the school year ranking 1st in her class of 60 students! What an awesome achievement! With continued support, Aimee can continue to work hard and succeed in school. Someday, maybe she will achieve her dream of becoming a pilot for Rwandair.
Thank you for your generosity that directly impacts the lives of these vulnerable girls. Your kind donations allow them to feel worthy of big dreams.