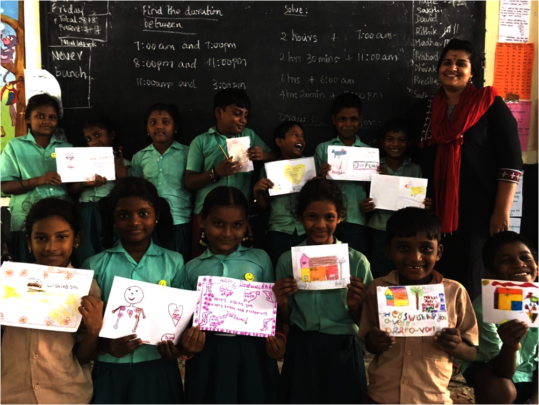 Here is the narrative from Chennai Fellow Abhinaya on her experiences with the second year of Fellowship along with her students.
"It gives me great privilege and pride in sharing my journey with Teach For India so far. I am Abhinaya, an Engineer in Computer Science, who worked in the corporate sector for two years. My passion to work with children with special needs gave me the courage to quit my well-paying IT job and follow my dreams of becoming a special educator. I pursued my Post Graduate Diploma in Special needs and worked as a special educator for two years before joining Teach For India, to be part of a greater movement.
Working with Teach For India has been one of the greatest experiences for me so far. Working with my school, the community and the organisation has shaped me into an open-minded and positive person. My 17 9-year-old students inspire me each day and from them, I have learnt that nothing is impossible. The journey has taught me the rewards of hard work and the importance of consistency. All the challenges I have faced have shaped me into who I am today and I strongly believe that it's a continuous process.
Facing the daily challenges, travelling through the ups and downs definitely has made me a stronger person. My school saw a sudden drop in attendance and a huge drop in enrolment when my fellowship started. This was due to the migration of a huge chunk of the community to a different area which had more facilities. I started my fellowship with low enrolment and attendance which had gradually improved. I find that my students are present at school almost all days and engage in high rigour content. Their interest in education and involvement has improved. Their love for the English language has helped them become creative and expressive. Now, my students proudly walk to me and tell me on how they have now begun to think in English and express their thoughts accordingly. They feel extremely proud of themselves.
Apart from academics, my students have always shown interest in arts, sports and reading books. They have grown more responsible and I can clearly see them shaping into conscious citizens, who want to change the future. They actively engage in topics that involve persisting issues such as pollution, alcohol abuse, lack of justice, equality and so on. They participate in competitions willingly and do not hesitate to express themselves in front of an audience. The major challenge I faced initially as a fellow was low attendance. Since I was born and brought up in Chennai, language was never a barrier. The parents were not so invested as they had other pressing issues to address on a daily basis, and lack of education for their kids was of least importance to them. But after the first few months of my fellowship, my students and their parents got more familiar with me and things began to change. As a teacher, I made sure they saw the growth of their child, no matter how small it was. I notice that the investment from parents is slowly beginning to shift.
Apart from parent investment, there were other reasons which resulted in low attendance, such as poor nourishment resulting in low immunity, child labour and so on. With consistency, I sincerely hope we, as a school team, are able to overcome the other challenges faced by the children in the community. Each day has been as rewarding as much as it has been challenging. My rewards come with beautiful moments - every time I walk into the school a bunch of kids come running to me just to wish me and then I see a spurt of hands raised high up whenever I ask a question in the class.
I can never forget the day when my dyslexic student had come to me after the class to say he had got all his 'addition sums' right, and he had his friend proudly walking beside him to say he helped him. It feels so good whenever my kids tell me how they have begun to think in English and how it is helping them to express themselves better. Seeing the pride and smile on their faces when they receive a small appreciation or get something right, I feel that I found my secret ingredient behind my lovely so far. I am sure that all these moments will be etched into my memories forever."