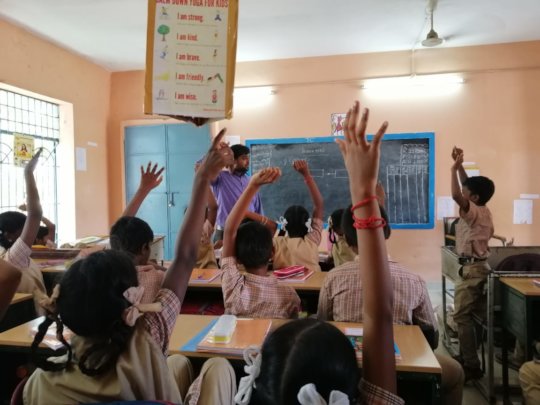 2019 Fellow Shugeeth shared his reflections & learnings for the past 5 months in his classroom as a teacher:
"Teaching has always been my passion and I am thankful to Teach For India for giving me this opportunity to live that passion. It will be difficult for us to function without the sincere and consistent support of donors and supporters, so I express my most sincere gratitude for supporting us. Heartfelt thank you.
Though I started working with passion, I was hit hard by the harsh reality of inequality in the education. I have taken necessary steps to observe the class and its requirements so far. I have students coming from a varied spectrum of society and understood that a single mode of delivery of content will not suffice to justify education to them. I am looking forward for the next term, to provide better opportunities for them to learn in different ways possible.
For the past one term, the best I have accomplished is to create the thirst for knowledge in my classroom. The students have created an interest to learn and listen to mathematics and science classes. I can positively say that my 'Introduction to New Materials' sessions are comprehensive -- all 43 students in my class not only listen but also participate in the classroom session. They are getting more curious every day and this has improved their academic performances. They still face problems in formulating their ideas into statements in exams, this will be worked on priority in the second term.
The students are exposed to a wide variety of activities and competition. The class motto is "to understand our voice and let it be heard by the world. Winning or Losing doesn't matter". On that note, we have worked to get students compete in competitions and have encouraged them to participate without thinking about results. This has enabled them to see how the society functions outside the school and the many challenges they have to face once they leave school.
Few of the projects and competitions that we have been a part of this term are,
Go Laadli(Lead like a girl) – This is college scholarship opportunity for school girls. The girl student identifies a girl/woman-centric problem prevalent in India or in her community in particular and proposes a solution to address it. 5 girls from our school have been trained by us in Problem Identification, Root cause analysis and Decision making to help them create the right mindset to address and solve any pressing woman-centric problems in their community. We have presented their solutions to Go Laadli and are waiting for the results. Problems and solution vary from 'Creating community centers to support girls in education' to 'addressing high numbers of alcoholic fathers'.
Lets Read Campaign - Let's READ is United Way Mumbai's nationwide initiative, which aims to nurture a love for books and reading among children who cannot afford access to books of their own. We had them conducting a session in reading and log keeping of what has been read. The highlight of the session was the STORY NARRATION by "KadhaiSolli" VIKRAM. It was amazing and my students enjoyed it a lot.
Olympiad Exams by SOF(Science Olympiad Foundation) - The Olympiad exams are competition for students of class 1 to class 12 in Math, Science, General Knowledge, English and Cyber. It is conducted by Science Olympiad Foundation (SOF) with the aim of identifying and nurturing future scientists, technologists and IT talent at school level. We have trained them for their various exams and they are going to write the GK Olympiad exam at the end of the term I.
Wings To Fly – Wings to Fly is a Rotary Club of Madras East (RCME) initiative. Every year they take up either science or Language and conduct competitions to identify the best qualifying students in the city. This year it is Elocution (Speech competition), and we have trained 3 students and have presented them as our school candidates. The city-level winners will be decided in the competition that happens in the second term.
My most exciting moment in the class has been sometime in the mid of the term when I saw my least active students in the class participating in the class lectures and answering questions. The Montessori way of teaching says that once we trigger the child's curiosity the child learns on his/her own. Hence I consider this as my first victory. In order to create this inclusiveness I had to design my class lectures differentially, it always had something for the higher order kids and everything for the lower order kids."