Greetings from Teach For India!
Teach For India team would like to thank all of you for supporting our cause. Every child deserves an excellent education but the stark reality today is that less than 10% of Indian students go on to college. Teach For India exists because of a deep belief that every child can and must attain an excellent education. We are committed to finding, developing and supporting India's brightest, most promising leaders for this to happen.
In our last report, we introduced you to our three fellows who have been teaching in our classrooms. Today, we are proud to share with you a story- a story of 44 bright children from Grace Model School. This is a low-income private school in Mustaidpura, Karwan Road in Hyderabad. The school operates in 3 separate blocks triangulating the Old Subjimandi (Market) area in the old city region of Hyderabad totaling a school strength of 900 students from Pre-KG to class X. Vast majority of the students come from economically and socially backward Muslim communities. All of these students are first generation school goers with their parents as daily wage workers, auto/taxi drivers, laborers in carpentry workshops or slaughter houses, etc.
Karthik Rapaka, a 2012 Teach For India fellow, 'Bhaiyya' (Elder Brother) - as the kids fondly like to call him, has been with this curious bunch of kids since June 2012. In Karthik's words, these children are on their ' Journey to Success ', which is also the theme of their classroom. Everyday these lovely children come to school to continue their journey to success.
In the last two years, these kids have been at more places than you can think. From participating in Mastermind Quiz to attending a conference at Indian School of Business, Hyderabad, these kids have been crossing one milestone after the other. We believe this exposure will make them dream bigger. With your love and support we can help them dream bigger. You can see pictures from the classroom and the events in the attachments below.
In our next report, we will bring you stories from the other classrooms. As of today, we have raised 47.8% of our target. We will need your continued support till we achieve our target goal. Until then, help us by spreading the word and achieve our goal!
Lavanya M
Development Associate | TEACHFORINDIA
lavanya.m@teachforindia.org
Follow us on Facebook | Youtube | Twitter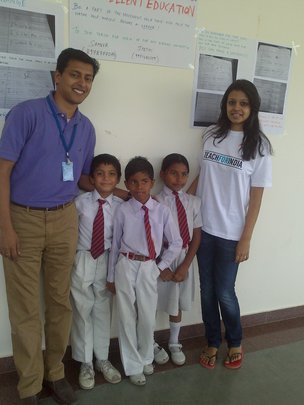 Links:
Attachments: