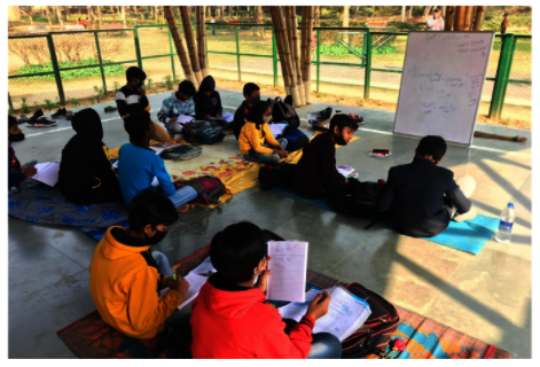 During the last quarter of 2020-21, we witnessed our Fellows and Students return to classrooms safely and courageously. At the beginning of March, it was heartening to see the students, who we were able to reach, receive 18 hours of instructional time per week – almost double, compared to December. In some of our schools in Hyderabad, between February and mid-March, we witnessed a spike in the attendance of our students in physical classes from 40% to 70%. In Delhi, the increase was even more pronounced - from 12% to 95% attendance.
Given current circumstances - rising cases and increased restrictions, we are back to virtual spaces to ensure that our students bridge the learning gap. We are focusing on the safety of our community, and resuming relief operations to support the families in need.
At an organization level , we are seeing progress in the wellbeing & engagement metrics we track:
• Wellbeing: 97% of our students (who are reachable) are healthy, feel safe or have ration at home
• Instruction hours: Our students are receiving an average of 18 hours of synchronous and asynchronous learning
• Attendance and Engagement:
72% of our students are able to access learning through blended experiences
68% of our students are attending at least 1 synchronous class per week
58% of our students are engaging with at least one asynchronous packet each week
With our experience of about a year of virtual and hybrid teaching, we have observed the following best practices:
• Enrolling parents as equal partners in the learning journey
As students spend more time at home, the role of parents in mediating learning has become increasingly important. In classrooms where student attendance to online spaces engagement with learning material was high, we noticed that Fellows had spent a significant portion of time investing parents. In these classrooms, Fellows co-created goals with parents, created structures to consistently update parents on their child's performance and created multiple spaces to interact with parents both virtually and in - person (wherever it was safe enough).
• Creating a conducive schedule for learning
There are multiple factors that influence student attendance, engagement and learning in a blended environment. Some of these are
1. Availability of the device during the day
2. The Student's schedule at home
3. Level of independence of the Student
4. Consistency of support at home
Keeping these factors in mind, creating an optimum schedule for learning for the week was one of the most important practices with blended instruction. Classrooms with high levels of attendance, engagement and learning often had weekly schedules specifically created to address the above factors. Students were called in different shifts based on the availability of devices. Fellows took intentional calls about what material needed to be done synchronously and asynchronously based on the nature of the content and the Students' ability to learn independently. Some Fellows ensured that Students had opportunities to learn in smaller groups and some leveraged the support of volunteers to ensure that students had more touchpoints through the week.
Our Fellows have truly stepped up to overcome the challenges that the pandemic brought:
With the onset of the COVID-19 pandemic and subsequent lockdowns, our Fellows pivoted to the virtual realm with astonishing agility and urgency, enabling many of our students to continue learning. While anything we say will fall short of their stupendous efforts, here are some stories as testaments to their unyielding spirit.
In March, Fellows in Chennai with the appropriate and recommended safety procedures conducted in-person meetings with their students' parents to emphasize the need for attendance in virtual classrooms. The importance of online classes, the role parents play in bridging the educational gap, mental health, and what asynchronous and synchronous classes mean were some of the topics covered.
Megha, a 2020 Delhi Fellow, has been taking classes in two distinct parks since January to ensure that all children in her classroom can access in-person classes. She regularly travelled about 2.5 hours to reach these locations.
In early March, Ahmedabad conducted the first in-person space for Fellows. They did community visits where they spoke to parents, community leaders, Headmasters, and children.