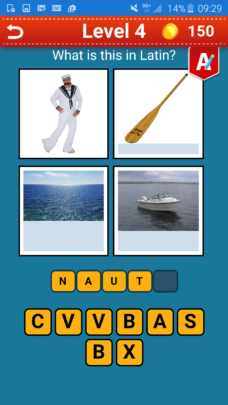 At The Latin Programme we are keen to make learning Latin not only fun, but interesting and exciting. As some of you will know, we often use rap to help children remember parts of speech and storytelling to solidify and embed new vocabulary. What you may not know is that we also use the latest digital and online tools to teach this ancient language.
Over the past year children in The Latin Programme have been learning how to make mobile phone applications for Android devices. Last year approximately 200 pupils took part in this project as part of their year-long course and over thirty apps were created ranging from simple quizzes to a first person shooting game. By combining ICT with Latin we consolidate children's learning while making useful revision tools that benefit not only the students involved, but which can be shared with other children (and adult Latin learners) across London, and the world.
One of the standout apps students designed is a knowledge-based animation of a gladiatorial scene. In it pupils are asked Latin knowledge questions which, when answered correctly, keep them safe from the blows of an on-screen enemy. Who would have thought that a 21st century device could transport the students back to the third century BC?
The app-making module has proved extremely popular with the children. Our aim next year is to make over fifty apps and to introduce at least 300 new pupils to the project. The project encapsulates what the Latin Programme is all about – innovation, accessibility, interaction and fun.
As you know, we are always on the look out for innovative and creative ways to teach Latin and improve our students literacy. If you have any ideas about interesting and exciting ways to spread the love of Latin, develop literacy and thereby improve the life chances of inner-city London children do let us know.
Thank you for your interest and ongoing support of The Latin Programme.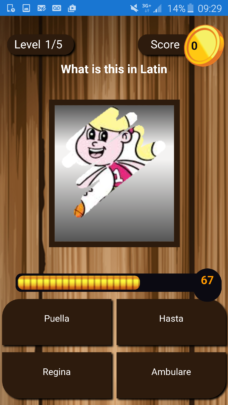 Links: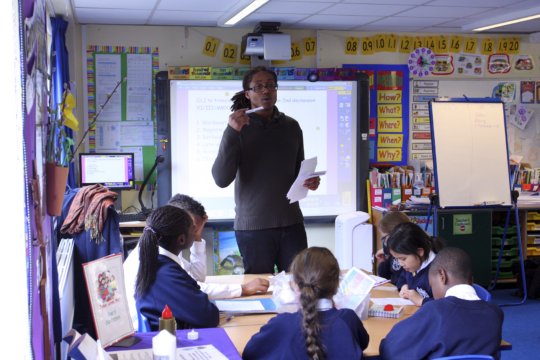 Meet Jonathan, The Latin Programme's longest-serving teacher. When he started working with The Latin Programme he taught 60 children per week. Now, eight years later, he teaches over 600 in 22 different classrooms across London.
Before joining The Latin Programme Jonathan worked as a music producer and had his own pirate radio show. His hip-hop background is surprisingly useful in the Latin classroom where he encourages pupils to participate in activities based around music and performance. Using a call-and-response technique Jonathan helps children understand verbal cues and has written rap songs about various grammatical concepts to help them with memorisation. If you were to take a peak into one of The Latin Programme classrooms you might find him teaching the "nominative case song" (see below), playing games like the Mexican wave or noughts and crosses and then finishing off with some translation.
Engaging pupils in this way makes lessons interactive and fun. Children not only absorb the principles of grammar, syntax and language structure, which help their literacy and language learning, but also have a great time doing it. It is no surprise that we regularly hear: "Latin is my favourite subject".
Jonathan says that even with just one Latin Programme lesson a week many of the 10 year olds he teaches with The Latin Programme in state primary schools know at least as much Latin as some of the 13 year old privately-educated children he occasionally tutors. And that's what makes the job so rewarding for him.
Your funding allows The Latin Programme to recruit teachers like Jonathan who engage and excite children to learn. By making lessons enjoyable The Latin Programme ensures that all children, regardless of their background, gain solid literacy skills to take forward into their lives.
Thank you so much for your continued support.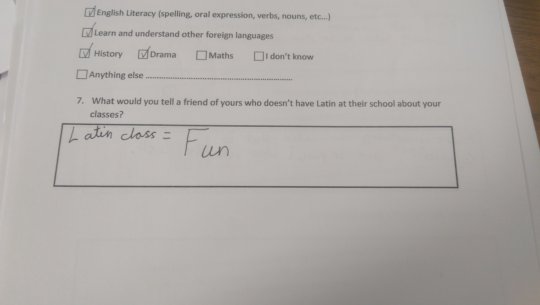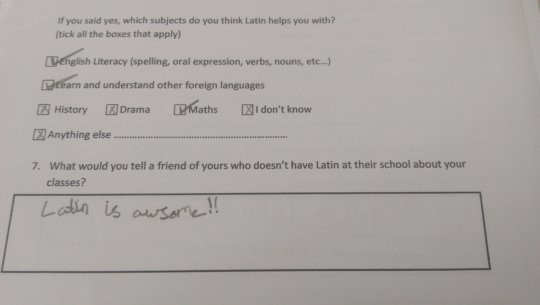 Links: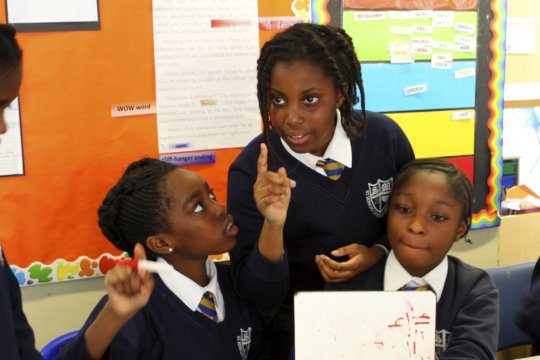 A study out this week reveals that the geographic area in which a child lives has an impact on their academic achievement. The research, by The Social Market Foundation, compared the performance of 11-year olds born in 2000 with those born in 1970 and examines inequality by region, income and ethnicity. The findings show that "the geographic area a child comes from has become a more powerful predictive factor" than in the past. Regional differences in attainment are apparently already discernable by the end of primary school and remain present even after other factors, such as ethnicity and income, are considered.
The initial research also showed that a very low proportion of pupils who receive Free School Meals end up achieving 5 A* to C grades at GCSE level (40%) compared to those not receiving Free School Meals (70%), indicating that parental income is still very much a factor in children's levels of attainment. In primary school children the study found that high ability children at age 11 are much more likely to come from families in the top income deciles and low ability children to come from families in the bottom income deciles.
The good news is that students in London have the highest results in England. But even in the capital results vary by location. Kensington and Chelsea, one of London's most affluent boroughs, (where the average earnings in 2012/13 were £116,350) has the highest percentage of pupils achieving five good GCSEs in state schools across all of England. While just a few miles away Barking and Dagenham (where the median income is £29,420) is among the bottom 20 local authorities in all of England for primary school inspection outcomes
At the Latin Programme we know that by the time children are seven, nearly 80% of the difference in GCSE results between rich and poor children has already been determined, which is why we focus our work in primary schools. Our mission is to support all children, regardless of borough, ethnicity or family income to attain and improve their literacy skills, as being literate increases opportunity in all aspects of life, laying the foundations for better health, community involvement and employment,
Please support the Latin Programme in our work to open the future to all children through improving literacy.
WARNING: Javascript is currently disabled or is not available in your browser. GlobalGiving makes extensive use of Javascript and will not function properly with Javascript disabled.
Please enable Javascript
and refresh this page.